Wharfedale is back...
... with the magnificent new E Series.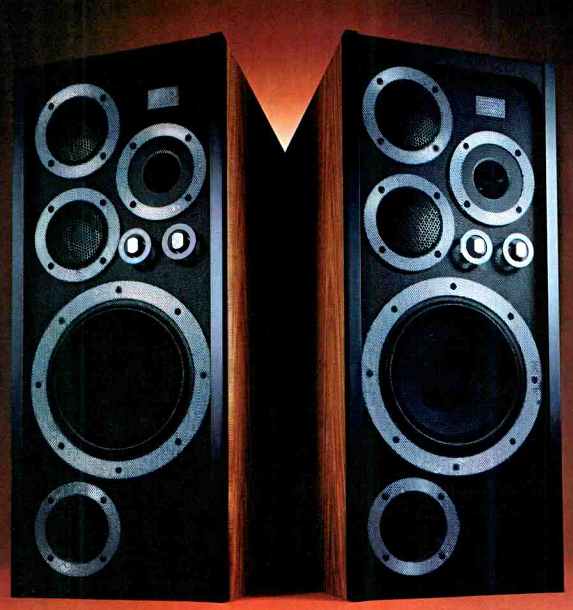 Shown above with matched walnut veneer enclosures.
Many American audiophiles remember or still own Wharfedale speakers, those great big sand-filled speakers designed by Gilbert Briggs, founder of the Wharfedale Wireless Works. They filled your listening room with rich, full and faithful sound and were judged to be among the finest by the world's leading acoustic and electronic engineers.
Ideals have not changed, but technology has advanced. We at Wharfedale have retained the basic criteria for faithful reproduction, while employing such advanced technology as computer optimization, greatly improved driving elements, and sophisticated crossover design. And so the new E Series are highly efficient, without sacrificing that rich and full sound quality made famous by Wharfedale.
The Wharfedale E-70's and E-50's sound magnificent under all acoustic conditions. They offer two environmental-contour controls for matching sound to the acoustics and shape of your listening room. Unlike other speakers that just control the amplitude of midrange and treble, the Wharfedale environmental controls change the shape and response of the crossovers.
Write to us for the name of your nearest Wharfedale dealer and ask for full product and technical literature on the E-70's and E-50's. Then listen to the dynamic new sound of Wharfedale.
We know you'll be pleased we're back in America.
RANK HI FI Inc., 22 Bushes Lane, Elmwood Park, New Jersey 07407 (201) 791-7888
WHARFEDALE
(Source: Audio magazine, Nov. 1977)
= = = =