---
---
When evaluating the quality of a full-symphony-orchestra recording -- whether this is a pure classical piece, film soundtrack, or progressive rock -- or audio components, pretend you are the conductor. Close your eyes and imagine the orchestra in front of you. Can you "see" the instruments in their proper places? The diagrams below depict the standard layout of modern symphony orchestras. Your mental image should allow you visualize instruments in their shown positions. (Note: the diagrams below are standardized but individual recordings may vary/deviate from the norm -- in minor to significant ways.)
Below: (Figure 1): Diagram of modern symphony orchestra. Note the position of piano in this image: recordings vary in how they depict (mix in) keyboards. This film score depicts piano in the position shown in this figure. Click image or here for full-sized version.
Below: (Figure 2): Another diagram of a modern symphony orchestra. Note: piano not shown; reason: variability in positioning. Click image or here for full-sized version.
Below: (Figure 3): Piano (keyboards) may be mixed in with the orchestra with the keyboard stretching from left (left channel) to right (right channel). Hard left will be the lowest-frequency key: C-major (16.351 Hz); hard right will be the highest-frequency key C-major (8372.018 Hz). Recordings with fewer instruments -- chamber, concerto, sonata pieces, and popular music -- often use this type of recording arrangement.
Below: (Figure 4): How a piano may be recorded using modern techniques. Position B is hard left (left channel) while Position D is hard right (right channel) -- the way a piano player hears the instrument.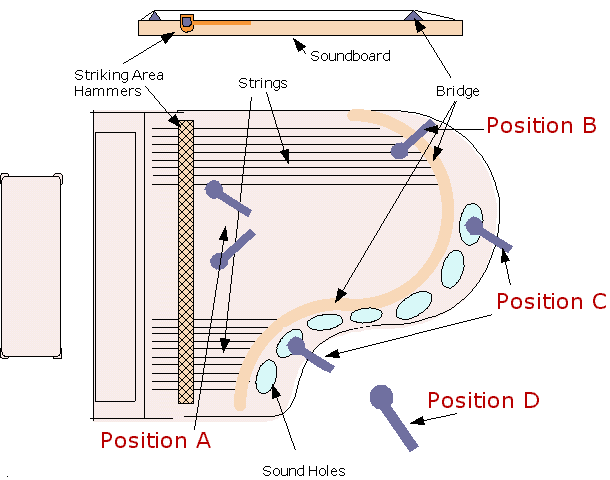 ---
An ORCHESTRA is a group of musicians that plays music written for a specific combination of instruments. The number and type of instruments included in the orchestra depends on the style of music being played. The modern orchestra (also known as a symphony orchestra) is made up of four sections of instruments—stringed, woodwind, brass and percussion. The stringed section consists of violins, violas, cellos (violoncellos), double basses, and sometimes a harp. The main instruments of the woodwind section are flutes, oboes, clarinets, and bassoons—the piccolo, cor anglais, bass clarinet, saxophone, and double bassoon (contrabassoon) can also be included if the music requires them. The brass section usually consists of horns, trumpets, trombones, and the tuba. The main instruments of the percussion section are the timpani. The snare drum, bass drum, cymbals, tambourine, triangle, tubular bells, xylophone, , vibraphone, gong (tam-tam), castanets, and maracas can also be included in the percussion section. The musicians are usually arranged in a semi circle—strings spread along the front, woodwind and brass in the center, and percussion at the back. A conductor stands in front of the musicians and controls the tempo (speed) of the music and the overall balance of the sound, ensuring that no instruments are too loud or too soft in relation to the others.
---
Recommended Recordings:
Track Listings
1. Vespertilio
2. Eptesicus
3. Myotis
4. Barbastella
5. Artibeus
6. Tadarida
7. Macrotus
8. Antrozous
9. Nycteris
10. Molossus
11. Corynorhinus
12. Lasiurus
Bonus: CLICK HERE for Batman Begins highly-praised "End Credits" in MP3 format (320Kb/s 21.292MB; run time 9:04 -- this is a full-length fidelity-optimized extract, so enjoy)! This "track" is not found on the soundtrack album.
---
Hollow Man: Original Motion Picture Soundtrack
Piano is recorded as shown in figure 1.
Reviews:
Pure, complete and masterful Goldsmith: Varese Sarabande presents one of the best if not the best so far, soundtracks from icon Jerry Goldsmith - "HOLLOW MAN". Album composed & conducted by Goldsmith, with orchestration by Alexander Courage of televisions "Star Trek", is totally mesmerizing.
Goldsmith delivers everything you would expect from him and more, getting his start in early television, then in films in the early '50s. Who can forget such scores - "LONELY ARE THE BRAVE" (1962) - "LILLIES OF THE FIELD" (1963) - "THE AGONY AND THE ECSTASY" (1965) - "THE BLUE MAX" (1966) - "OUR MAN FLINT" (1966) - "THE SAND PEBBLES" (1966) - "FLIM-FLAM MAN" (1967) - "THE HOUR OF THE GUN" (1967) - "PLANET OF THE APES" (1968), and that's just the '60s. Over five decades of music this composer has contributed, and still going strong.
The entire CD is masterfully done, some stand outs - "HOLLOW MAN THEME" - "ISABELLE COMES BACK" excellent tracks - "WHAT WENT WRONG" a hint of "CHINATOWN" (1974) also on Varese Sarabande release (VSD-5677) comes through on this track, very dream-like and haunting.
"Highly recommend this album to Sci-fi, horror and film score collectors, less we forget 'Jerry Goldsmith' fans. Pure suspense is written all over this score, Goldsmith has pulled out all the stops on this one - 'HOLLOW MAN' - keeps you on the edge of your seat!"
"Sci-fi, Suspense, Horror, and Action in one score: Jerry Goldsmith is responsible for more than 200 film scores. Some are classics, Planet of the Apes, for example. Some...aren't.(*cough The Haunting*.) 'The Hollow Man' serves as the main title cue in which we are introduced to what is to be the film's main theme. Played with a flute when the mouse was eaten by Isabelle, played with strings during the rest of the movie, it doesn't matter, it was great. "Linda and Sebastian" added a bit of light, semi-romantic music for the sub-plot that seemed pretty cheesy in the beginning but played more of a role in Sebastian's jealousy and insanity. 'This is Science'...played during Sebastian's transformation from Mr. Now You See Him...Now You Don't. It starts out kind of mellow then..THE CLIMAX! He begins to disappear. YES! The perfect spot for enormous horn blast. 'What Went Wrong?' begins with a light synth and leads into a quiet, almost surreal take on the film's theme. Plenty of time passes before 'The Big Climb', the big, cliche finale which my friends said was obviously taken from 'Deep Blue Sea'. But there was a difference. In "DBS", the climbers were trying to avoid fireballs from falling on them. In 'Hollow Man', they were trying to avoid fire from roasting their behinds. Anyway, my favorite part of 'The Big Climb' was when the elevator is falling back down and the string section just plays little squeaks that echo and seem like they're getting lower and lower. Jerry Goldsmith is a genius there is no doubting that and this score really shows that."
---
If you like this score -- or Jerry Goldsmith scores in general -- the DVD for this movie features an isolated score with composer commentary. Here is a sample from the Hollow Man DVD isolated score:
Hollow_Man-000941-002000_Nero_48-to-44-1.mp3
---
Alien (1979; 1999 DVD with two isolated scores)
Continuing with Jerry Goldsmith scores, Alien (1979) is (IMO) one of his finest. Unfortunately, the original LP, long-out-of-print, and Silva Screen's CD (from 1988) are both of below-average sound quality and contain a mere 35 minutes of music. The best way to get your dose of Alien is via the 1999 DVD (not the 2004 re-issue). The 1999 DVD contains two isolated scores and is very complete. Alas, we have to put up with DVD's lossy-compression sonics, and format issues (one can't play this on non-DVD systems, as is the case with most portable and car-audio players). You can extract the audio from the isolated tracks using third-party software (or use several free and open-source programs as described in this tutorial). Here is a sample extracted from this outstanding score:
Alien_isolated_score1_002350-004031.mp3
---
APP Remasters

: The Essentials / Dutch Collection | Eye in the Sky | I Robot

Alan Parsons Project, Essential and The Dutch Collection
(both CDs contain exactly the same audio; The Dutch Collection has liner notes in Dutch; Essential, in English)

For the most part, piano is recorded as shown in figure 2 and figure 3. Listen for this in tracks like "Silence and I", which feature a full symphony orchestra.

Reviews:

From someone at Amazon.com: THIS IS THE BENCHMARK THAT YOU MUST OWN: 2007 Issued Digitally Remastered Triple CD Collection of the Best Tracks from the Band Assembled by the Famed Recording Engineer who Became an Artist in his Own Right, Creating a Discography of Multiplatinum Selling Albums that Are Beloved by Millions. The Tracks on Collection were Influenced by Literate Fans who Entered a Contest to Request their Favorites for this Set and Explain Why They Liked Those Particular Songs So Much. Thus, this Special Triple Disc Set Has Been Highly Influenced by Those who Truly Care About the Band. The Set Includes Tracks from their First Album "Tales of Mystery and Imagination" (Which was Originally Released on the 20th Century Label) and all the Arista Label Albums from "i Robot" to "Gaudi" as Well as the Previously Unreleased Gem, "no Answers, Only Questions".

Spawned from the original ten studio albums, and starting with "The Best Of The Alan Parsons Project" disc in 1983, there have been over twenty-five Alan Parsons Project compilation CD's issued!

From an audio standpoint, there is wide-ranging divergent quality between all those CD's, each being a result of the advance of mastering technology at the point in time it was compiled.

In terms of content, however, with the majority of these compilations being single-disc, they all ultimately failed in an appropriate presentation of a catalog so rich in material.

With the release of this 3-CD, 48-track set, "Essential", the combination of the best standard-CD audio, along with the most comprehensive representation of the greatness of the Parsons/Woolfson partnership, has finally been achieved. Shy of a complete reissue of the entire catalog in remastered form, which has yet to be done (and hopefully this set is a harbinger of that), The Dutch Collection is the set all APP fans should acquire.

Track-by-track, I have exhaustingly A/B'd the audio in this set against the former best of the "best of's". In the majority of the set, I would declare it the benchmark against all others.

There are a few curious exceptions. I found the mastering of "Sirius/Eye In The Sky" on the now-defunct "Platinum & Gold Collection" to be superior. There also seems to be a few millisecond chop of the first piano chord off "Time" on this set: The piano, complete with intact first chord, is definitely more in the forefront on the "Platinum" disc. And, on "Sooner Or Later", the better audio nod, again, definitely goes to the "P&G" CD.

Other minor notes: The 2002 Japanese K2-mastered "Best Of" single-disc CD has the full versions of "I Robot", "Lucifer" and "La Sagrada Familia", where the long sound-effect intros to all of those tracks have been edited for this set. And, they didn't name it "The Dutch Collection" for nothing: The only English language in the package is the logo on the front!

This set carries combined Sony-BMG/Arista/Sony-Legacy logos. As this set represents the best and most complete audio-restoration work to date of the bulk of the APP catalog (46 of the 92 total studio album tracks), one hopes that in 2007 we will finally see a full re-release of all the APP albums in remastered form. It would also be great to see them in Japanese LP-mini-sleeves with all those amazing Hipgnosis-produced jackets replicated in detail.

Also, the inclusion here of a two-minute unreleased track, "No Answers Only Questions", a simple and stunningly beautiful acoustic guitar/vocal song, makes one wonder what other Parsons/Wooflson gems have never seen the light of day. Extensive non-album material would certainly be the hallmark of any complete APP catalog re-issue program (although I personally could do without the "disco-fied" version of the "Separate Lives (Alternative Mix)", the only other non-album track that appears on this set).

Until the Great Alan Parsons Project re-Issue Event occurs, however, The Essentials is the standard against which all other APP CD's will be judged against.

It is also the one compilation that no true APP fan should be without.
---
review: Just received the disc-set yesterday from an $$ eBay auction order "won" a week ago (wish I had waited a day longer for the word from the new, official APP site, and saved 1/2 the cost!). This disc-set is #3110/7500 and was shipped from the Netherlands 2006-10-05.

On sound quality:

Let me cut to the chase to what I feel is the most important issue: how does the audio compare to similar material on Classic Records 24/192 DVD-Audio discs?

The 24/192 DVD-Audio disc tracks have more "focus". I.e., it's easier to pin-point vocals/instruments in space. But, generally speaking, the new Dutch Collection's plain ol' 16/44.1 CD tracks sound fuller and richer than the 24/192 tracks. They may be slightly eq'd that way and/or it may be my equipment/opinion. But, frankly, I think BMG/Sony gave Alan and his mastering gang the resources needed to really make this project stand out. Classic Record's pockets are not as deep. All IMO, of course, but no one will overall be the least bit disappointed with this APP investment. Among the stand outs for me are: TOMAI '87 tracks.  A disappointment was Pipeline, a personal fave but on DC (as on AA Japanese CD from 1994) it sounds awfully bright and "glarey". In any case, DC is a great sampler for the stuff coming next year!

I don't mean to discredit the carrier technology of the DVD-Audio format: it is evolutionarily better than Red Book CD. But other factors obviously creep in. A good example of this is JVC's XRCD projects, several releases of which are comparable to their SACD counterparts (not related to AP/P ... but Japanese EitS and AA from mid-90's utilized JVC K2, which is part of JVC's XRCD process). Sigh ... if only we could persuade Sony/BMG/AP/EW/et. al. to release the new masters on DVD-Audio or SACD. (BTW: Note I did not comment on diff. between other older CD releases and Dutch Collection (DC)/The Essentials. I did compare, but DC/Essentials fidelity is so much superior, it's a moot issue).

On liner notes, artwork and Digi-Pak format:

Like it a lot but wish I could read the Dutch text! Frankly (and IMHO, of course), this may be the best liner/art package since Tales (not a huge fan of much of the Storm T stuff). Being into audio gear, I dig the DC's speaker!

A while back on the APP Roadkill list, there was some discussion of a comprehensive Project box set. But I'm not quite sure how I feel about traditional boxes as they are large and inconvenient when it comes to storage and disc removal. I like the Dutch Collection's Digi-Pak format: easily stores and transports and holds multiple discs + liners. Two or three Digi-Paks w/ 3-5 discs a piece -- or even Opera-oriented jewel boxes shrink-wrapped together -- would IMO be ideal [2007-04-01 update: Sony/BMG did choose the better option for the more-recently-released The Essentials -- it is, indeed, packaged in the aforementioned Opera jewel box. Are decision-makers reading the APP/Roadkill messages?!].
---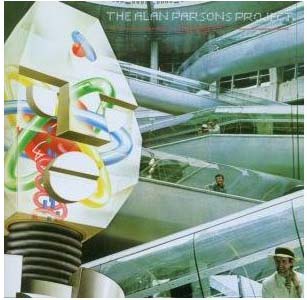 Alan Parsons Project, The: I Robot (30th anniversary expanded re-issue from Sony Legacy; 2007 )
At long last...the legendary 1977 recording and musical tour-de-force, that has already and so-deservedly been re-released/re-mastered multiple times -- and across many formats including original-master LP and DVD-Audio -- has been "re-engineered" and expanded like never before for its 30th anniversary. A lot of other reviews are covering the new bonus material (see track listing below), nostalgic attributes of the album, Isaac Asimov's science-fiction metaphors and Alan's resume (do reviewers really need to repetitively re-hash this stuff when all we need to do is go to Wikipedia's Alan Parsons page or Alan's or Eric Woolfson's personal domains?!)...so I won't Xerox this info!
The bottom line for me is: does this new re-mastering sound better than the UHQR 200-gram original master LP (released in early 1980's by Mobile Fidelity Sound Labs) and/or Classic Records' DVD-Audio disc (24-bit/192kHz) from 2004? (Note: Classic Records also released I Robot on thier own 200-gram Quiex-SV-P vinyl. I have not heard this version; I assume it sounds very good.)
Evaluation caveat: it's very difficult to "equalize" component "quality" across different formats (see this note). So an LP-vs-CD or LP-vs-DVD-Audio disc evaluation is not very trustworthy. Digital-to-digital comparisons are a bit less subjective, especially if the same (multi-format) player is used. I own a Pioneer Elite DV-59AVi CD/SACD/DVD-Audio/Video player. I have further personally modified and tweaked the player -- somewhat similar to this Toshiba model -- to improve and enhance performance across all formats. [More on test/listening equipment here]
Bottom line: Yes, the new Sony Legacy CD re-issue is better than any other previous (re-)release, regardless of format. The new remastering is that good and may even be called "transcendental" in this respect***. But, had this new mastering been released on equally-carefully-mastered SACD, DVD-Audio, 24/96 DVD-Video, Blu-Ray, HD-DVD (or even new 200-gram vinyl for that matter (as Classic Records has recently done for some APP releases), I surmise all would sound superior to any older releases as well as the new CD (which is archaic Red Book, 16-bit/44.1kHz). We know that Alan's sonic engineering is future-proof, or there would not have been so many re-releases! Let's hope Sony exploits this as-yet untapped potential and releases I Robot on Blu-Ray disc (or SACD)!
Track Listings
1. I Robot
2. I Wouldn't Want To Be Like You
3. Some Other Time
4. Breakdown
5. Don't Let It Show
6. The Voice
7. Nucleus 05
8. Day After Day (The Show Must Go On)
9. Total Eclipse
10. Genesis Ch. 1. V. 32
11. I Robot (Boules Experiment)
12. Breakdown (Early Demo of Backing Riff)
13. I Wouldn't Want To Be Like You (Backing Track Rough Mix)
14. Day After Day (The Show Must Go On) (Early Stage Rough Mix)
15. The Naked Robot (Early Stage Instrumental Mixes)
---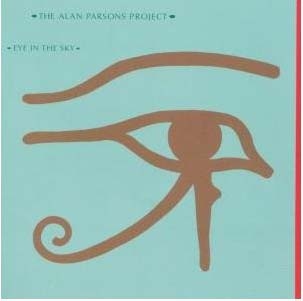 Alan Parsons Project, The: Eye in the Sky
(re-mastered and expanded; 2007 Sony Legacy re-issue)
Although Eye in the Sky was never released on LP from an "audiophile" company (e.g. Mobile Fidelity Sound Lab), it was released in Japan, in 1995, using JVC's 20-bit K2 'Super Coding'. That release was bright- and forward-sounding. Some didn't care for this sound (which had much more to do with the mastering engineer's preference than K2 (K2 is the technology behind JVC's highly-respected XRCD process; these are arguably the best Red Book CD treatments in existence)). But, IMO, it was better than anything else that had been released to that point, except certain Japanese and European vinyl pressings (see note 3 below).
In July 2005, Classic Records released Eye in the Sky on HDAD, a dual-sided DVD (one side featuring 24-bit/96-khz DVD-V (playable on any DVD player); the other side was 24-bit/192-khz DVD-Audio, the best-sounding version of the two). This release was definitely better than any other version including the now-second-place Japanese LP pressing from years back. The recording was not remixed in anyway I can detect. I wouldn't have minded a (Tales of Mystery and Imagination) ToMaI (1987)-type treatment, especially to add more ambience and dynamics, as Alan did for drums and other instruments in that now-classic remix. But I realize that the cost/scope of such a project may have been prohibitive, especially for smaller outfits like Classic Records (and the fact that CR has never historically engaged in such projects TTBOMK). Also, as Alan noted in the liner notes of ToMaI (1987 re-release) -- which was remixed then, only 11 years after the original release in 1976, from the original multi-track -- "analog tapes do wear out". So the magnetic multitrack tapes for any Project album recorded "in analog" may be too far degraded to be of any use.
Warning! Although Eye in the Sky, in 1981/1982, was originally recorded on analog (multi-track) equipment, it was mixed onto a 2-channel digital master (a poor-sounding Sony 1610; see notes on "early digital recordings" below). For both the 2005 DVD-Audio disc as well as the new Sony Legacy release, the "original" Sony 1610 digital master seems to have been used again. The "harshness" and loss-of-focus on higher-frequency sounds (high-hat, cymbals general, upper strings), audible in all previous formats/releases, is still evident. That said, it's not sure how much the original can be improved upon with modern technology other than remixing from original analog multi-tracks.
Bottom line: See my bottom-line notes on the new I Robot, above. Many of those conclusions apply to this album as well. In my opinion, this version (re-mastering) of Eye in the Sky is the best one to date. It will sound even better if it is released on one of the higher-rez ("HD") formats or carefully-mastered vinyl. But, the full potential of this album will not be realized unless (until, let's hope!) it is re-mixed, from its original (analog multi-track source tapes; if those are available and in good condition) onto a modern digital mastering system.
Track Listings
1. Sirius
2. Eye In The Sky
3. Children Of The Moon A
4. Gemini
5. Silence And I
6. You're Gonna Get Your Fingers Burned
7. Psychobabble
8. Mammagamma (Instrumental)
9. Step By Step
10. Old And Wise
11. Sirius (Demo)
12. Old & Wise (Eric Woolfson guide vocal)
13. Any Other Day (Studio Demo)
14. Silence & I (Early version; Eric Woolfson guide vocal)
15. The Naked Eye
16. Eye Pieces (Classical Naked Eye)
---
2-CD Tales of Mystery and Imagination (aka ToMaI)

The Alan Parsons Project (APP) 2007 remaster notes: New compression in ToMaI '87; sound quality of Dutch Collection / The Essentials -- albums compared.
Some notes on the sound quality (SQ) of recent APP remastered releases... ToMaI 2007/1987:
I was about to give a complete "thumbs up" to the 2-CD ToMaI (2007) when I noticed an acute but destructive use of compression (i.e. audio level compression, see) in Pavane (1987; Disc 2) at 03:09. The bulk of the drum kit (especially snare) -- on the original '87 CD/LP -- enter here (after a great build-up) with excellent dynamic range. When I first heard the original '87 remaster, snare (and general drums/percussion) dynamics were what most impressed me as they were not present in the '76 version (any format). I *believe* "hard" (or at least noticeable) compression is "thankfully" used only in this track (and perhaps only from 03:09 --> end-of-track). The remaining tracks retain the dynamics of the orig '87 but, due to technological developments since that period, sound better than any prev. '87 ToMaI (regardless of format). Since the liner notes indicate that 2007 '87 was remastered from the 2-track '87 digital master (not re-mixed from orig. multitrack), this means (as can be heard) that *all* signal content in Pavane 03:09 --> end-of-track is compressed (i.e. not just drums/percussion). "Pavane" at 03:09 is my fave moment of my fave track of my fave version of this album. So the noted compression, IMO, *really* sucks ...the life out of this track :(! What happened here, ToMaI (2007) engineers?
Dutch Collection vs. The Essentials vs. 2007 album versions:
I can hear improvements between these recent editions in the order they were released. SQ of 2007 ToMaI/EitS/Vulture Culture (VC) tracks is better than on DC/Essential. I also noticed that some of the weird "phasing" on DC's Pipeline is pleasantly absent on Essentials. This track is still overly bright and harsh so, hopefully, the upcoming AA will fix these issues.
SQ of 2007 ToMaI/EitS/VC/IR tracks is better than on DC/Essential.

Still working on a comparison between EitS/IR/ToaFC HDAD/DVD-A vs. 2007 CD remasters; that'll be done when ToaFC is released. I truly believe 24/96 and 24/192 are superior bit depths and sampling rates, as are whatever format they are presented on -- all else being equal. If AP/Sony/Universal or even Classic Records had chosen to release the 2007 remasters on 24/96 and/or 24/192, they would be superior to the plain ol' 16/44.1 CD.

My "problem" in evaluating across formats now is that my plain ol' CD-playback system is way better than my DVD-V/-A/SACD system. IMO, high-quality players of the high-rez formats are too $. And the bulk of the industry (both software and hardware) seems to have -- for the moment, anyway -- given up on the them. Part of the blame lies on the consumer for support of MP3 and other lossy formats. Maybe that will change with HD-DVD and Blu-Ray.
Audio equipment used to evaluate CDs noted above:
DIY (self-built) DAC using plain ol' 16-bit 2/4/8x oversampling, discrete I/V and output, w/clock-slaved DIY-modded Philips CDB-650 transport; DIY PPAv2 headphone amp; Shure E500 IEMs.
---
Coming soon...full reviews of: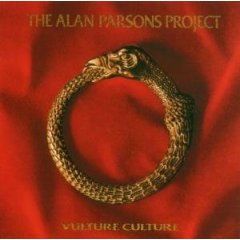 Above: Images of 2007 Sony/BMG expanded CD editions of Vulture Culture and 2-CD Tales of Mystery and Imagination. Full Reviews coming soon!
Notes:
(1) Because Sony is involved -- and that company is (or was until recently) in the SACD camp (vs. DVD-Audio) -- will the upcoming titles be in SACD, or better yet SACD/hybrid? Hopefully, the latter because one can play back on portable/car equipment. The "problem" with SACD is that its digital format -- DSD -- is fundamentally different than PCM*, which was -- TTBOMK -- used in mastering/recording all AP/P albums from EITS to present. DVD-Audio and DVD-Video, as used in the Classic Records releases, are PCM.

Also not clear on whether Alan will devote additional remastering effort over n' above the "recent" Classic Records releases (putatively, he was already involved remastering those, as the liner notes indicated).

Hopefully, the non-Arista stuff -- especially TOMAI '87 -- will also someday follow with similar treatment. [Update: this note was written in 2005; it is now 2007. Since Sony now owns both PolyGram (ToMaI) and Arista (remaining Projects), the entire APP catalog, is being re-issued].
(2) Below are excerpts from an APP forum discussion I engaged in (on or about 2005-08-09) with a notable online audiophile equipment/software reviewer:
> [Reviewer wrote:] There are a number of things about the LP format that gives it qualities that people can prefer, and while I don't agree with those people I hear what they like about it respect their preference for that type of sound.
There are probably several qualities we can hear/perceive that may not *yet* be associated with a quantifiable test.
Early digital sound left a lot to be desired despite the fact it spec'd out better than analog. Simply compare Classic Records' new EitS and IR HDADs to hear what I'm elucidating.
But the technology improved when previously-unknown, sound-affecting variables were "discovered". For example, data jitter (1) became a "new" and "worthy" parameter in digital audio, sometime in the early 1990s (IIRC), for affecting certain sonic qualities. In the future other parameters may be "discovered" that will help quantify audible differences we hear between these formats. It would indeed be great to have numerics (metrics) associated to audiophile buzzwords such as "warmth", "micro-dynamics", etc., instead of the purely subjective evaluations many "golden ears" are so fond of.
>> [I originally wrote:] As for the 24/192 HDAD, the UHQR is superior in some ways, inferior in others. Hard to tell because it's difficult to "equalize" component quality across different formats.
> [Reviewer wrote:] Now this is a totally fair and insightful comment. There are things you like better about each version. It's worse than a component quality issue. It's well documented that when comparing two nearly identical bits of playback, people usually prefer whichever is louder. Given that the dynamic range of the two media you're comparing are quite different, there is literally no way you can do a fair comparison of them. Whatever volume level you pick, the compression used to produce the LP is going to result in certain parts being louder than others relative to the DVD-A.
Yes. Also to clarify my original comment a bit further: it's difficult to "equalize" component quality across different formats *and across different price ranges.* If one of these arm-waving vinylphiles were to say, "I Robot UHQR sounds way better than the 24/192 HDAD", the evaluation equipment needs to be assessed. An evaluation based on a $500 combi DVD-A/V player and a $10K turntable/tonearm/cartridge/phono-preamp is hardly fair. In this case, the theoretically-superior specs of DVD-Audio format would not be able to "overcome" the limitations of the "budget" electronics used in the player when compared to the high-end record-playing system -- all else being equal. Realistically, it would be difficult to equalize quality engineering (using commercially-available components) even if prices were kept similar for both formats. There are simply too many design differences between component manufacturers -- among other things -- to come to any scientifically-valid conclusion. For that, we needs *lots* of empirical data; TTBOMK, we don't have that yet.
(3) It is not just digital technology -- both hardware and software; for producers/engineers and listeners -- that evolves and (usually) improves over time, it is (usually) other aspects of the process as well: analog electronics, power supplies, hands-on recording techniques, as well as feedback, reviews and criticisms from professionals and fans**. The end result is a complex multi-variable equation that often must be taken as whole. So if I say, "WOW, this K2 20-bit technology really improved the sound of this CD", you should have plenty (multi-variable ;-) of statistically-backed reasons to doubt me.
(4) Early digital recordings did not sound good (except a few by Telarc (using Soundstream) and Decca (using 18-bit/48kHz)). Makers of early digital equipment (Sony, Philips, Denon, and others) touted their gear by playing the numbers game: that is, boasting performance benefits based on a few, popular (and, in the context, overrated) engineering specifications, such as frequency response, dynamic range, total harmonic distortion, wow and flutter, etc. Further, the standardization and testing methodology used to acquire and establish the parameters, metrics, tested data and interpreted results were -- to say the least -- questionable*. And then they added legitimate stuff to their sales literature: lack of surface noise, non-contact/non-wear playing surface, and all on a small, convenient carrier unit. A lot of folks -- professionals (engineers) and consumers (buyers of CD players) -- got suckered in by this early, heavily-marketed hype ... by electronic giants who had a lot of advertising cash.
* Don't get me wrong: these are important parameters and there are units today that both sound good and measure/spec good. But early digital units used rough-sounding brick-wall filtration and pretty much ignored important parameters such as data jitter and linearity. The result was "unfocused", "grainy" sound. Digital recordings, in my opinion, did not come "into their own" until as late as the mid to late 1990s.
| | |
| --- | --- |
| Above: Sony PCM-1630 -- a digital PCM adaptor used in mastering Alan Parsons Project's 1987 release of Tales of Mystery and Imagination. | |

Above: An early Sony PCM recorder (aka PCM adaptor). The PCM-F1, in production from 1981-1990, was somewhat similar to the
1610 noted in the discussion above. It's also similar to the Nakamichi DMP-100 unit below.

Above: The PCM-F1 digital PCM adaptor with power supply.
** Other often-overlooked factors that affect recording and listening sessions are purely based on human shortcomings:
Something as basic as a head cold, change in barometric pressure, a heavy meal, drug/alcohol and medication can dramatically affect hearing and perception.
Long periods of listening, even at moderate levels can, after several hours, makes one's ear-brain system tired and insensitive.
Emotional and psychological issues can also have profound effects on "psycho-acoustics". To a person freshly "in love" -- with his/her neurological system reacting to the appropriate electro-chemical characteristics of this emotion -- certain romantic themes sound superb and joyous. Similarly, other psycho-acoustic-affecting emotions -- anger, fear, sorrow -- filter/tweak our senses and perception.
Ask yourself: Which (or, better yet, how many) of the above conditions is any professional (engineer/reviewer/critic) or consumer (listener) affected by at any given time?
*** ...alternatively (and I don't mean to take anything away from the new mastering), one could also conclude that difference between Red Book CD, DVD-Audio, and UHQR vinyl are not that significant. Hence, the new mastering is not that transcendental.
References:
Wikipedia (various pages)
Equipment used for audio-evaluation tests:
Home | My PC-based A/V System (circa March 2004) | My Home A/V System (circa 2001)