The Dual 1249. It will give you more reasons than ever to own a Dual.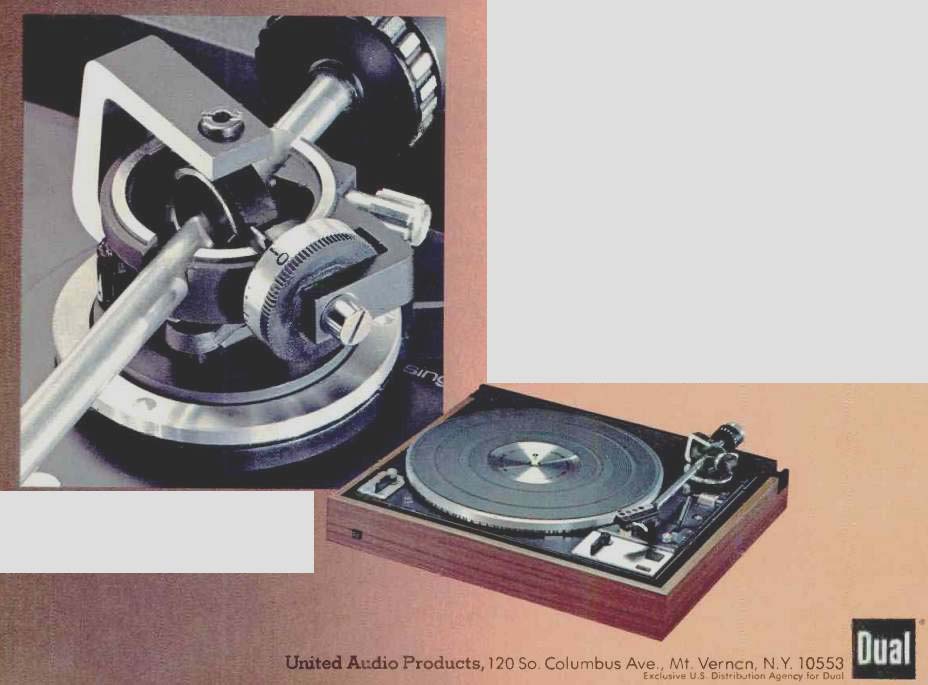 For several years, independent surveys of component owners-audio experts, hifi editors, record reviewers, readers of the music/equipment magazines-have shown that mare of them own Duals than any other turntable. This is quite a testimonial to Dual's quality performance, reliability and fully automatic convenience.
We believe the new 1249 will add even more serious music lovers to the roster of Dual owners, as it provides every feature, innovation and refinement long associated with Dual turntables plus some new ones. And all in a newly designed chassis that complements the superb design and meticulous engineering of the 1249.
The low-mass tubular tonearm pivots in a true four-point gyroscopic gimbal suspended within a rigid frame. All tonearm settings are easily made to the exacting requirements of the finest cartridges. The tonearm is vernier-adjustable for precise balance; tracking pressure is calibrated in tenths of a gram; anti-skating is separately calibrated for conical, elliptical and CD-4 styli.
Tracking is flawless at pressures as low as a quarter of a gram. In single-play, the tonearm parallels the record to provide perfect vertical tracking.
In multi-play, the Mode Selector lifts the entire tonearm to parallel the center of the stack.
All operations are completely flexible and convenient-and they are foolproof. The tonearm can be set on the record manually or by using the viscous-damped cue-control or by simple pressing the automatic switch. You also have the options of single-play, continuous-repeat, or multiple-play.
The dynamically-balanced cast platter and flywheel are driven by an 8-pole synchronous motor via a precision-ground belt. Pitch is variable over a 6% range and can be conveniently set to exact speed by means of an illuminated strobe, read directly off the rim of the platter.
Of course, if you already oven a current Dual, you won't really need a new turntable for several years.
However, we would understand if you now feel you must have nothing less than the new 1249. Less than $280, less base.
Still, we should advise you of two other models in our full-size, belt-drive series. The 601, single-play, fully automatic, less than $250. (CS601, with base and cover, less than $270.) The 510, single-play, semi-automatic, less than $200.
Tonearm of Dual 1249 pivots in four-point gyroscopic gimbal, suspended within a rigid fame.
Each gimbal is hand-assembled, and special gauges assure that each will conform to Dual's a stringent specifications.
Also see:
Dual 1249 turntable (ad, Sept. 1975)
Dual Model 1249 Automatic Turntable (Equipment Profile, Feb. 1977)
= = = =