You only hear what's on top of the platter--Not what's beneath it.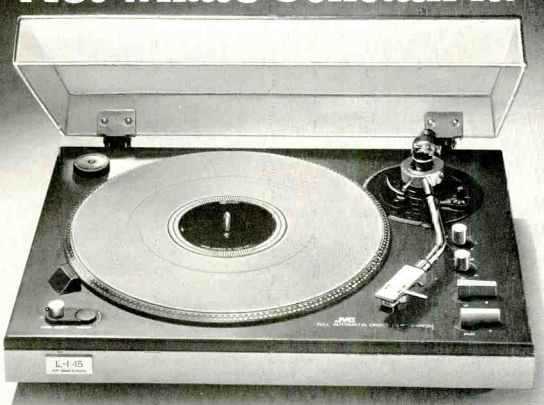 You can always distinguish the excellence of a turntable by its capability to rotate a platter precisely, at a given speed, without adding rumble, wow and flutter to the performance.
Because JVC's new JL-F45 turntable platter is directly driven by a specially designed DC servo motor, any rumble-producing effect is virtually nonexistent. The result is outstanding measurements that defy audibility.
Rumble is better than 70dB (DIN B) and wow and flutter is less than 0.03% (WRMS). Even some of the most expensive turntables don't measure up to the excellence of these specifications.
In addition to the precision of direct-drive, the JL-F45 offers dual options for operation. Manual. And completely automatic. Auto Lead in. Auto Return. Auto Stop. You can even repeat play a record automatically up to six times-or infinitely.
The JL-F45's exclusively designed Tracing-Hold tonearm assures the highest degree of groove tracking with unusually low tracking error.
This is absolutely essential for today's ultra low tracking cartridges, including CD-4. The new unipoint gimbal suspension system reduces unwanted friction and overcomes unexpected jolts to the arm.
Every feature you're likely to want in a quality turntable contributes to this 2-speed unit's high level of performance.
2-way viscous-damped cueing. A 12-inch aluminum die cast patter with illuminated strobe. Anti-skating control. Direct-reading tracking force dial. And lots more.
While the JL-F45 is JVC's top of the line at $250* there are two other more modestly priced models. The fully automatic belt-driven JL-F35 at $160* And the semi-automatic JL-A15 at $130*.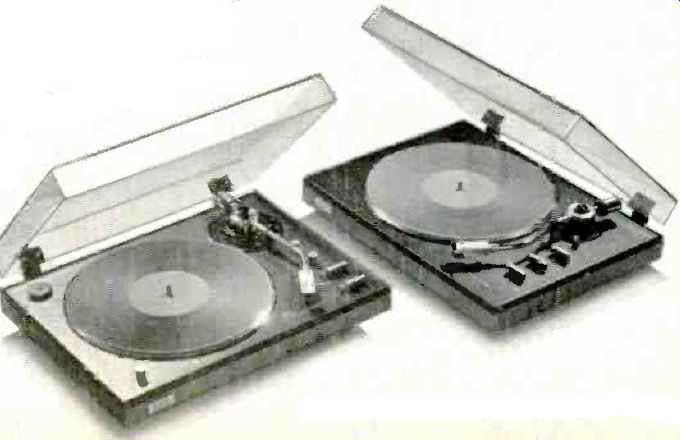 Whichever you choose, you can be sure you're r getting the most turntable precision, reliability and value JVC has ever offered.
JVC America, Inc., 58-75 Queens Midtown Expressway,. Maspeth, N.Y. 11378 (212) 476-8300. Canada: JVC Electronics of Canada. Ltd., Scarborough, Ont. Outside N.Y. call toll free 800-221-7502 for nearest dealer.
*Approximate [late 1976] retail value, including base and dust cover.
(Source: Audio magazine, Jan. 1977)
Also see: JVC cassette tape decks (ad, Sept. 1979)
= = = =