THE RT-707 IS UNLIKE OTHER 7-INCH TAPE DECKS. THIS ONE ISN'T FILLED WITH 15 YEAR OLD IDEAS.
THE ONLY THING IT HAS IN COMMON WITH OTHER 7-INCH TAPE DECKS IS THE SIZE OF ITS REELS.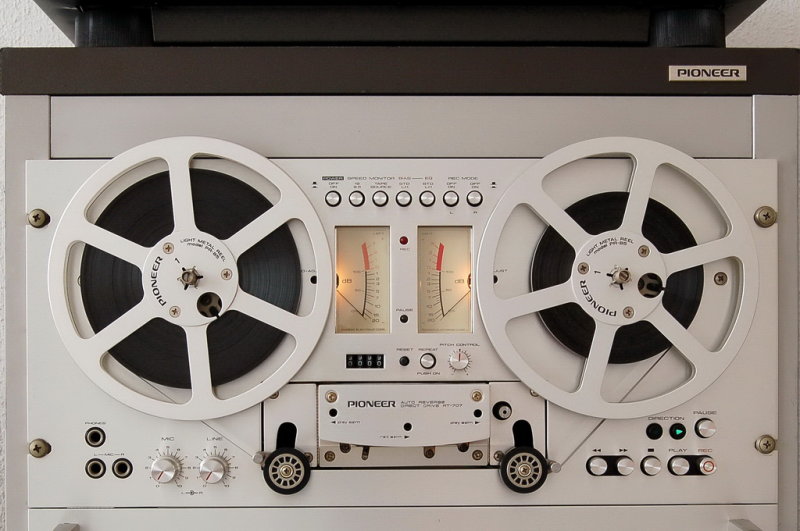 Now there's one 7-inch open reel tape deck with the kind of technology and features found in some of today's most sophisticated 10inch tape decks. Pioneer's new RT-707.
In fact, the RT-707, when compared to other 7-inch tape decks, makes them look and sound 15 years old.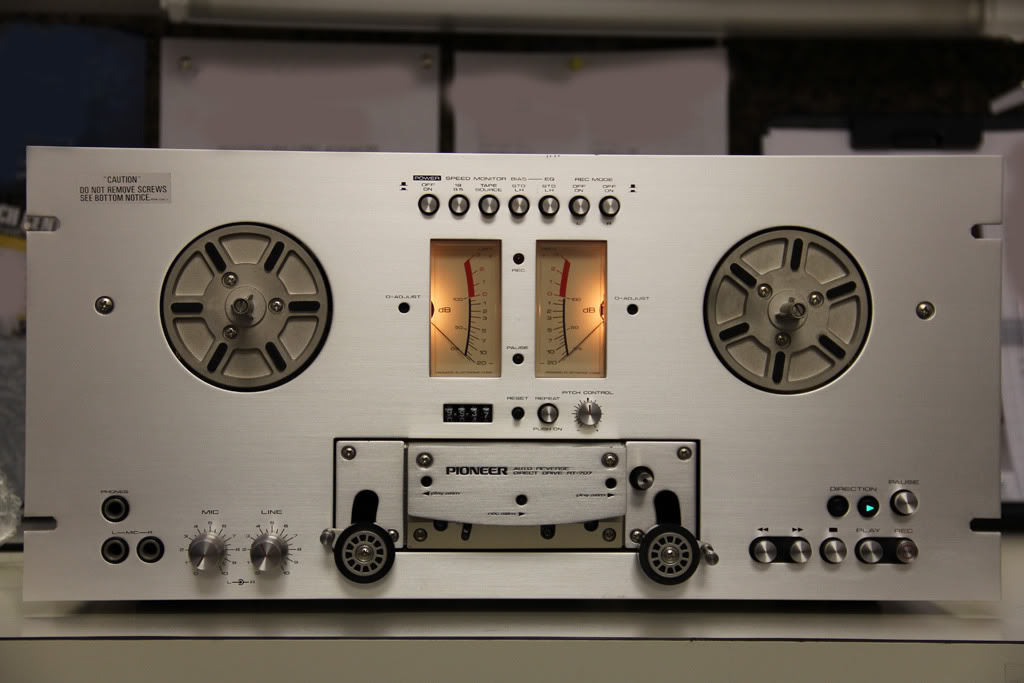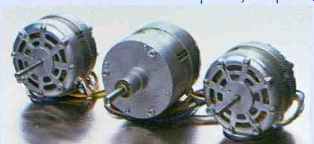 --Above: The extraordinary direct-drive system.
THE MOST ACCURATE DRIVE SYSTEM: DIRECT-DRIVE.
The average 7-inch tape deck is equipped with an old fashioned, high speed drive system that works on belts or pulleys.
A system that generates excessive heat, wow and flutter and comes with its own nifty little "noisemaker": a fan. Not the RT-707. It's driven by a far more accurate and efficient AC Servo direct-drive motor. A motor that generates its own frequency to monitor and help correct variations in tape speed. Which results in incredibly little wow and flutter -- 0.05% (WRMS). In addition, the drive system of the RT-707 is unaffected by fluctuations in line voltage and won't deteriorate with age like belt-drive. And because it doesn't generate heat it doesn't need a fan. So what you'll hear is music with a clarity and crispness not possible on any 7-inch, or many 10-inch tape decks.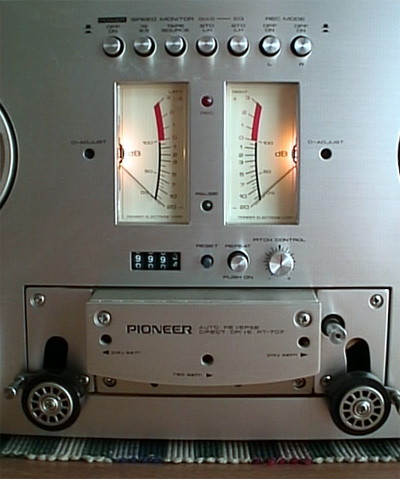 A FIRST FOR 7-INCH TAPE DECKS: PITCH CONTROL.
Thanks to this extraordinary direct-drive system, it's also made pitch control possible for the first time on any 7-inch tape deck.
Which means that you can regulate the speed of the tape, so your recordings will have perfect pitch even if they weren't originally recorded that way.
BEYOND THE RANGE OF MOST 7-INCH TAPE DECKS.
In the past, the most you'd expect from any 7-inch tape deck in terms of frequency response was respectability.
But Pioneer's engineers have gone far beyond that. Our super-sensitive tape heads, for instance, will pick up and deliver frequencies from 20 to 28,000 Hertz. The preamplifier, which is built around Pioneer designed integrated circuits, will handle up to 30 decibels more input than any other 7-inch tape deck without distorting. So you can capture all the depth and presence of each and every instrument without losing any part of the music.
A WHOLE NEW WAY OF LOOKING AT TAPE DECKS.
Where most 7-inch tape decks are big and clumsy, new technology has helped us make the RT-707 smaller and more compact.
Unlike others, the RT-707 can be stacked or rack-mounted.
For example, Unlike others, the RT707 can be stacked between the take-up or rack-mounted.
reels on the" dinosaurs" of the past, you'll find nothing but wasted space. On the RT-707, however, you'll find this space occupied by a series of highly sensitive controls plus two large VU meters. All of which helps reduce the dimensions considerably.
Of course, as you can see from the picture, the entire unit is rack mountable. But what you may not have noticed is that the RT-707, unlike any other tape deck, is stackable. It's made to fit right in with the rest of your components.
AUTO-REVERSE AND OTHER EXTRAS.
While many tape decks have auto-reverse, chances are you won't find it on other comparably priced 7-inch tape decks. You also won't find a repeat button that lets you listen to your tapes endlessly, or circuitry that allows you to hook the RT-707 up to a timer, so you can make recordings even when you can't be there to supervise them.
Obviously, these are only a few of the virtues of our new RT-707. But there are also things like a highly accessible tape head alignment that lets you adjust and clean the tape heads without removing the cover. Solenoid push-button controls that give you direct function switching, so you can go from one mode to another without damaging the tape. And a floating guide roller that helps decrease intermodulation.
The point is, you'll see a lot of things on the RT-707, that you won't sec on any other 7inch tape deck.
But all this revolutionary thinking wouldn't mean much if the RT-707 weren't built to fit comfortably into your budget. It is. In fact, its price is comparable to any good tape deck.
See your Pioneer dealer and get a closer look at the most extraordinary 7-inch tape deck ever built.
We think you'll find the only things that the RT-707 has in common with other 7 inch tape decks is the size of the reels. And the size of the price.
PIONEER--WE BRING IT BACK ALIVE.
-----------
(Source: Audio magazine, Jan. 1978; )
= = = =