Clean look, clean sound.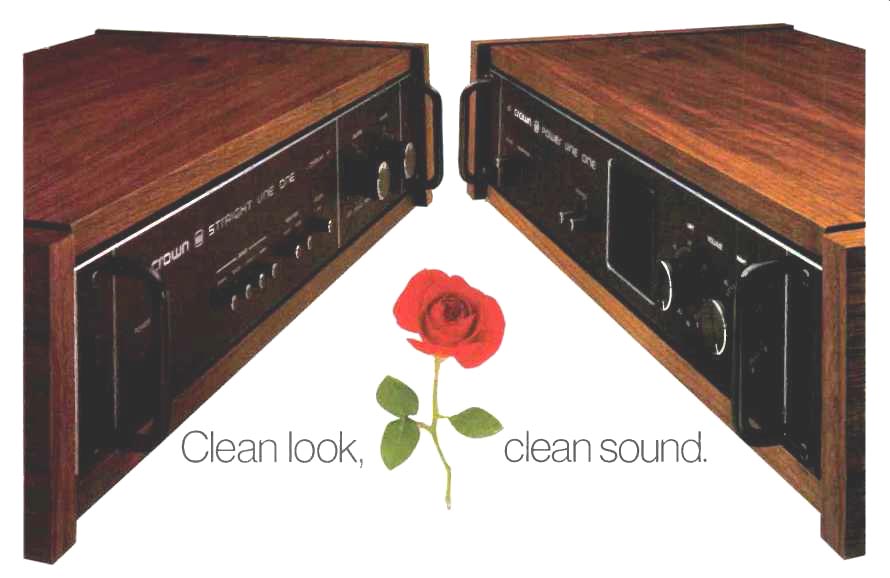 That clean, open look of these new Crown components is intentional. The Power Line One amp and the Straight Line One pre-amp are designed for people who delight in accurate sound reproduction, whose joy is in listening, and for whom simplicity of operation is important.
They are obviously easy to operate, yet all the basic controls you need for accurate reproduction and monitoring of fine quality sound are there.
But your greatest enjoyment will surely come from the unusual sonic accuracy of these units. They are acoustically as transparent as can be imagined.
Achieving that purity of sound and function wasn't simple. We've had 27 years experience in building state-of-the-art audio components, such as the world-famous DC-300A high-power amp and the newer DL-2 digital logic pre-amplifier. We've learned a great deal about what can and cannot be done with circuit design, with transistors and with IC's.
That experience is reflected in new computer aided circuit designs. In the Straight Line One phono pre-amp section, for instance, internal noise is so low that thermal noise from your cartridge will be the dominant source of noise.
This circuit technology has also made possible other features you're bound to enjoy. The phono pre-amp is a separate module, much like the system developed by Crown in the DL-2. It eliminates troublesome RFI. Note also that Crown put distortion indicators on both units. The amplifier has both the unique Crown IOC circuit plus new peak output voltage LED's. Front panel speaker switching and a new concept in DC speaker protection provide flexibility of layout and security of operation at high levels.
Please don't take our word for all of this. Visit your Crown dealer soon. Listen to the clean, full range sound of the Straight Line One and the Power Line One. That experience should simplify your buying decision.
SPECIFICATIONS:

crown USA

1718 W. Mishawaka Road, Elkhart, Indiana 46514, USA.
American innovation and technology... since 1951.
(Source: Audio magazine, Jan 1979; )
= = = =