TO FULLY APPRECIATE PIONEERS NEW DIRECT-DRIVE TURNTABLE, YOU HAVE TO TAKE APART THE COMPETITION.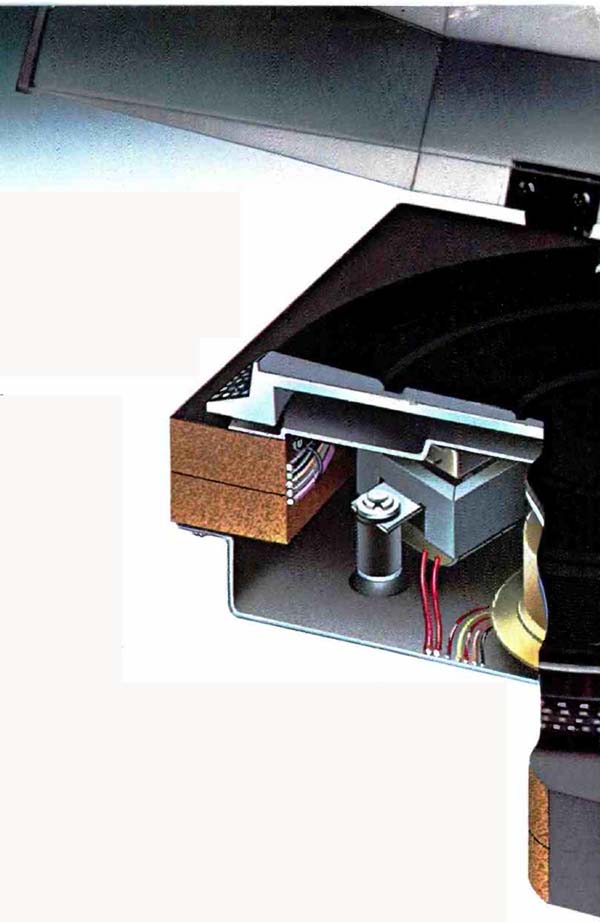 All turntables are pretty much the same on the outside.
But if you look carefully inside, you'll see the things that separate Pioneer's new PL-518 from others.
Things that add up to a turntable that can reproduce music perfectly, free of audible distortion, acoustic feedback and rumble.


---- Instead of suspending the motor, Pioneer has anchored it so vibration can't affect the music.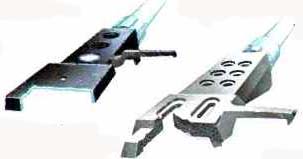 ---- Flimsy plastic and metal headshells can distort music, so Pioneer's is made of glass fiber which eliminates all resonance above 75 hertz.
A REMARKABLE DRIVE SYSTEM.
Obviously, all direct-drive turntables have an extremely accurate drive system.
Each offers an immunity to fluctuations in line voltage, pitch control, and a built-in strobe unit to help you regulate the speed of the platter.
But we believe the drive system of the PL-518 is the most accurate found on any turntable selling for under $175. Because the 16-pole, 24-slot brushless DC Servo motor is much the same as those found in turntables selling for $250, if not more. and Equally important is the fact that ca this motor is anchored to a metal bottom plate, instead of suspended from the base, where vibration can affect your music.
SOMETHING YOU RARELY SEE IN A TONE ARM: THINKING.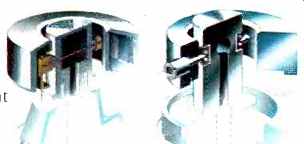 ---- Many tonearms are mounted on piano wire that vibrates which is why our tone arm floats on steel pivot bearings.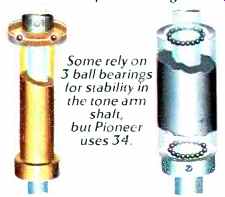 ---- Some rely on 3 ball bearings for stability in the tone arm shaft, but Pioneer uses 34.
To give you further insight into the virtues of our PL-518 you only have to look at the way some tone arms are mounted. On piano wire.
Or cheap plastic casings.
Instead, ours is gimballed on steel pivot bearings. So it can't vibrate.
A great deal of thought also went into developing an auto-return mechanism with fewer moving parts. It imposes less load on the motor and is more reliable than the auto-return on most turntables.
Then there are two separate ball bearing assemblies used in the tone arm for greater stability as it passes over the record.
A plastic headshell is good enough for most tone arms. It's nowhere near good enough for the PL-518. Tests show plastic tends to resonate at frequencies between 75 and 300 hertz. By using a glass fiber shell, resonance above 75 hertz is all but eliminated.
In fact, nothing vibrates on the tone arm with the e exception of the stylus. So nothing comes through the tone arm but music.
A SOLID ARGUMENT FOR THE 2-PLY PARTICLE BOARD BASE.
The base on many turntables is nothing more than a hollow plastic shell. Or worse, sheet metal neatly hidden beneath imitation wood veneer.
Both seem harmless enough, but they tend to vibrate and cause acoustic feedback when the volume is turned up.
The base on the PL-518, however, is made of two solid blocks of compressed wood, each 20 millimeters thick. When the two are lined it not only gives e base greater density, le glue between the pieces acts to damp vibration. So when you're listening to a record, you don't hear the turntable.


---- Common staples can work themselves loose, which is why Pioneer uses aluminum screws to mount the base plate to the base.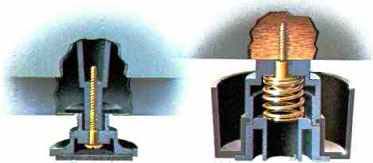 --- Stiff plastic legs merely support most turntables, but Pioneer's massive spring-mounted rubber feet also reduce feedback.
THINKING ON OUR FEET
Instead of skinny screw-on plastic legs, Pioneer uses large shock mounted rubber feet that not only support the weight of the turntable, at absorb vibration and reduce acoustic feedback. So if you like to play your music loud enough to rattle the walls, you won't run the risk f rattling the turntable.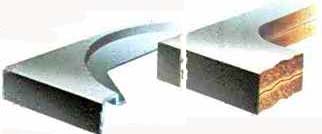 ----- Unlike the hollow plastic base, our solid 2-ply particleboard base is far less susceptible to vibration.
FEATURES YOU MIGHT OTHERWISE OVERLOOK.
Besides the big things, the PL-518 has other less obvious advantages.
Our platter mat, for example, is concave to compensate for warped records.
The platter itself is larger than others in this price range, which means it stays at perfect speed with less strain on the motor.
Even something like our spindle is special. It's 0.8 microns larger than most, so that the record is always base perfectly centered.
And instead of flimsy staples, we use sturdy aluminum screws to seal the base plate to the base.
It's details like these as well as advanced technology that gives the PL-518 an incredibly high signal-to-noise ratio of 73 decibels. And an extremely low wow and flutter measurement of 0.03%. Performance figures you'd be hard pressed to find on any other turntable for this kind of money.
So if you want to get the most out of every piece of music, you should have the turntable that gets the most out of every part that goes into it.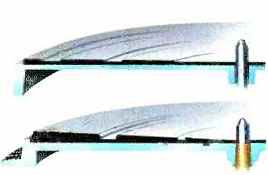 ---- The ordinary platter mat is flat.
Ours is concave to compensate for warped records.
Smaller, conventional platters are more subject to speed variations than our massive platter
WHEN YOU PUT IT ALLTOGETHER, YOU CAN' T BUY A BETTER TURNTABLE FOR UNDER $175.
PIONEER-- We bring it back alive.
(Source: Audio magazine, Jan 1979; )
= = = =