Open Reel: The format for the informed.
You're looking for a tape recorder.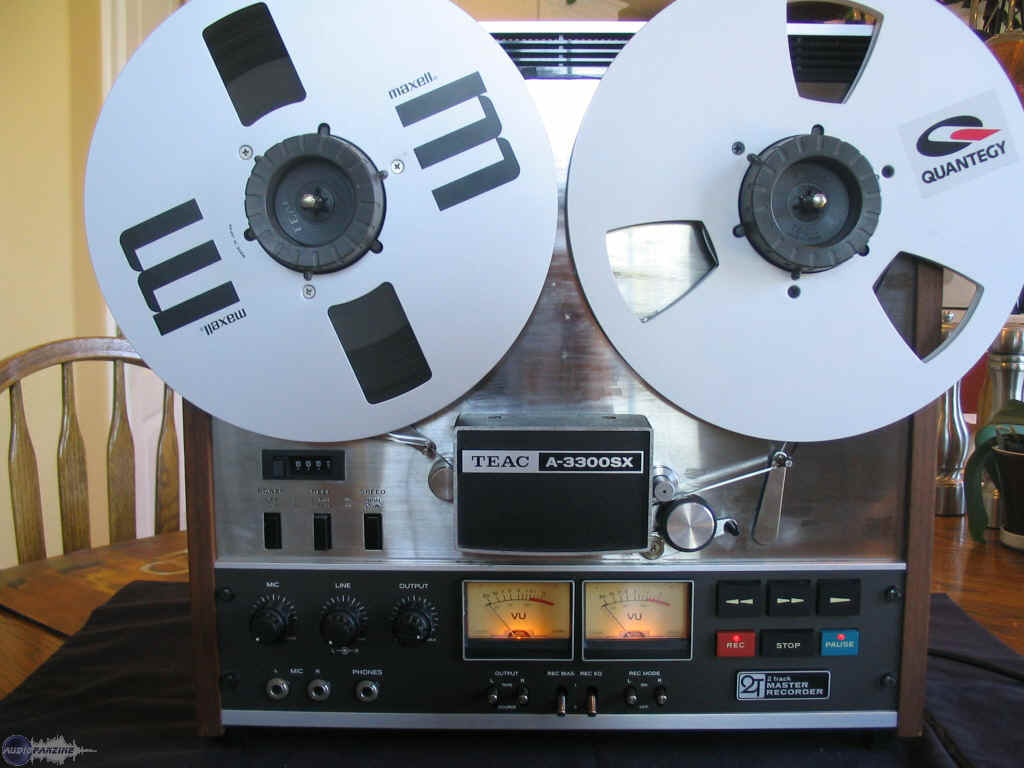 You've heard from friends and salesmen that cassette is the answer. At TEAC we make both cassette and reel-to-reel tape recorders. Because we make each for a specific person and application, you should depend on fact, not hearsay, before spending your money.
IT'S A MATTER OF PHYSICS
There are immutable reasons why cassettes can't match open reel fidelity.
Take tape speed. Open reel tape running at 7 1/2 ips is running four times faster than a cassette. And speed has more to do with the relationship between frequency response and signal-to-noise than anything else by far.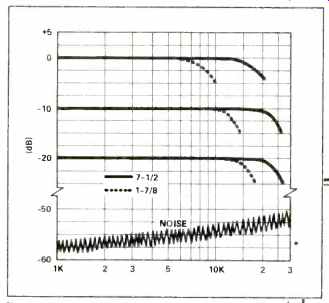 -----Tape saturation vs. level at 7 1/2 ips and 1 7/8 ips.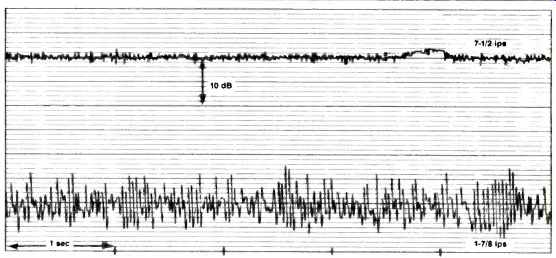 ----- Comparative dropouts between 7 1/2 ips and 1 7/8 ips at 15kHz.
At 7 1/2 ips all audio frequencies can be recorded at full level without tape saturation. Recording at 1 7/8 ips forces you to make drastic compromises in record levels. The more you have to back off on recording levels, the more you hurt the ratio of signal-to-noise.
In short, with a cassette deck you cannot have high frequency response and good signal-to-noise. So a cassette deck is always operating on the ragged edge of disaster. It's so much easier to get into trouble than out of it because there's a difficulty for every solution.
MORE IS MORE
The faster the speed the longer the wavelength, the longer the wavelength the more protection you have against dropouts.
You also have an easier job of editing.
Now take track width. Open reel gives you twice the track width of cassettes. The wider the track width the higher the output, the higher the output the better the signal-to-noise ratio. A wider track is also less sensitive to dropouts and, obviously, a wider track retains more magnetism.
And while we're on the subject of magnetism, an open reel tape has twice the oxide coating of a cassette.
Upshot: A total tape volume 16 times greater than a cassette, which means 16 times more magnetic particles to store and remember music.
If that sounds better to you, if we've convinced you the cassette format is a high price to pay for convenience, then you ought to look at the TEAC lineup of open reel tape recorders.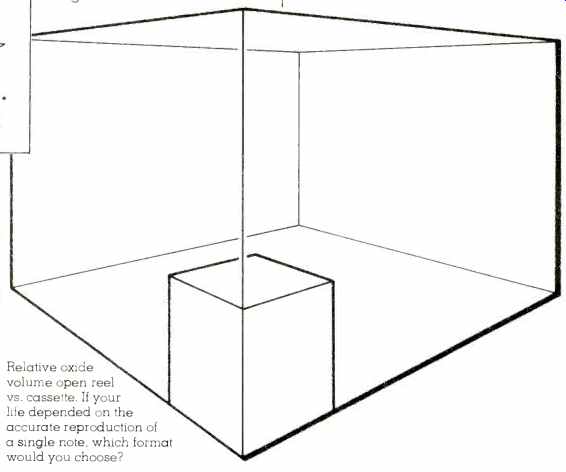 ----- Relative oxide volume open reel vs. cassette. If your life depended on the accurate reproduction of a single note, which format would you choose?
INSIDE INFORMATION
TEAC is a leading designer and manufacturer of computer and instrumentation recorders.
In medical centers, for example, physicians depend on special TEAC units to record vital data in life-or-death situations; in remote wilderness areas, scientists depend on TEAC to monitor now-or-never phenomena like earthquakes.
From that experience we've learned that the quality of the transport mechanism is the single most important consideration in a tape recorder. For the computer industry, and for you.
That's why many of the same engineers have designed the tape recorders we make for both.
Our entire reel-to-reel line has three motors and micro switched solenoid operated transport systems, a blend of computer age sophistication and brute strength that nothing else can equal. Ask anyone whose opinion you respect.
OPTIONAL REMOTE CONTROL
Unlike some reel-to-reel machines, TEAC decks have full-function remote capability.
Our optional remote units are the perfect answer for recording sessions where you can't be next to the recorder, or for operational access to a recorder in a custom installation.
FOUR EXAMPLES
The TEAC A-2300SX is the best selling, most successful open reel machine ever.
Over 300,000 have been sold. The SR version of the A-2300 features an auto-reverse function so you can play music in two directions.
Both use 7" reels.
The A-3300SX and its reversing version, the A-3300SR, are classic heavy-duty machines designed for 10" reels.
Whichever TEAC open reel recorder you choose, you can be sure it will last a long, long time. It was designed and built that way.
FACE IT
In the end, the cassette recorder is for those who are fonder of convenience than fidelity. If you want fidelity you can't ignore open reel.
In all crucial specifications, open reel tape recorders are better than cassette decks. And that message comes from the people who make the best of both.
TEAC
First. Because they last.
TEAC Corporation of America 7733 Telegraph Road Montebello, CA 90640, USA.
(Source: Audio magazine, Jan 1979)
Also see: TEAC -- Open reel tape recorder technology (Sept. 1979)
TEAC A-6600 open-reel tape deck (Nov. 1978)
= = = =