Others don't stack up against the books from Audio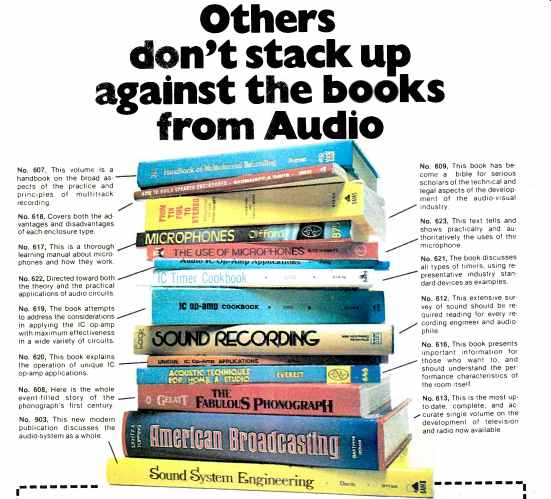 No. 607, This volume is a handbook on the broad aspects of the practice and principles of multitrack recording.
No. 618, Covers both the advantages and disadvantages of each enclosure type.
No. 617, This is a thorough learning manual about microphones and how they work.
No. 622, Directed toward both the theory and the practical applications of audio circuits.
No. 619, The book attempts to address the considerations in applying the IC op-amp with maximum effectiveness in a wide variety of circuits.
No. 620, This book explains the operation of unique IC op-amp applications.
No. 608, Here is the whole event-filled story of the phonograph's first century.
No. 609, This book has become a bible for serious scholars of the technical and legal aspects of the development of the audio-visual industry.
No. 623, This text tells and shows practically and authoritatively the uses of the microphone.
No. 621, The book discusses all types of timers, using representative industry standard devices as examples.
No. 612, This extensive survey of sound should be required reading for every recording engineer and audiophile.
No. 616, This book presents important information for those who want to, and should understand the performance characteristics of the room itself.
No. 613, This is the most up-to-date, complete, and accurate single volume on the development of television and radio now available.
No. 903, This new modern publication discusses the audio-system as a whole.
---
607, HANDBOOK OF MULTICHANNEL RECORDING, $10.95
608, THE FABULOUS PHONOGRAPH, 1877-1977, (softback) $6.95
609, FROM TIN FOIL TO STEREO, (softback) $9.95
612, SOUND RECORDING, $16.95
613, AMERICAN BROADCASTING, $26.50
616, ACOUSTIC TECHNIQUES FOR HOME AND STUDIO, $8.95
617, MICROPHONES--How They Work and How to Use Them, $8.95
618, HOW TO BUILD SPEAKER ENCLOSURES, (softback) $4.95
619, IC op-amp COOKBOOK, (softback) $12.95
620, UNIQUE IC op-amp APPLICATION, (softback) $4.95
621, IC TIMER COOKBOOK, (softback) $9.95
622, AUDIO IC op-amp APPLICATIONS, (softback) $4.95
623, THE USE OF MICROPHONES, (softback) $6.95
903, SOUND SYSTEM ENGINEERING, $19.95
Please send me the book(s) I have checked.
Enclosed is my proper remittance for $ I understand if I am not fully satisfied I may return my selection(s) in undamaged condition within 10 days for a full refund.
Name (please print)
Address City/State Zip
Please allow 4-6 weeks for delivery
(Source: Audio magazine, Feb. 1978, )
= = = =