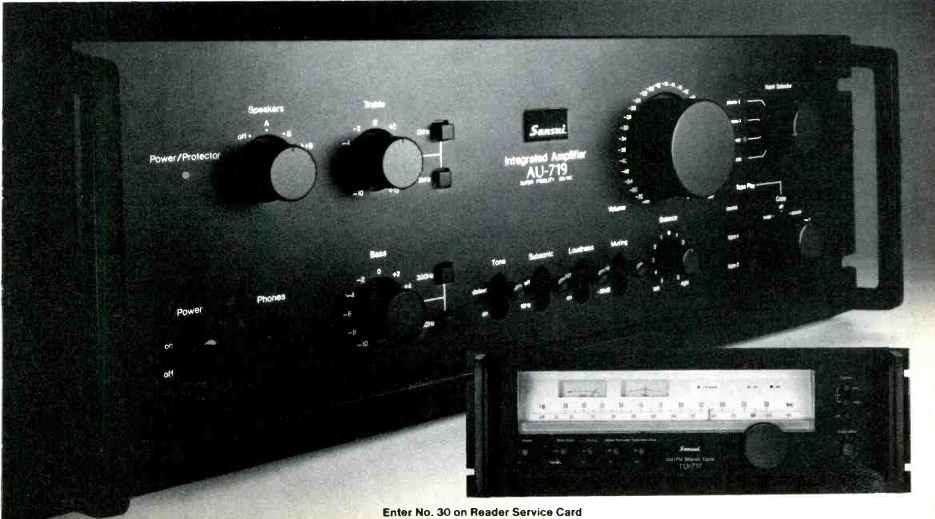 Sansui is breaking up a very successful relationship.
The TU-717 has a new mate: The AU-719.
Sansui has just introduced an exciting new integrated amplifier, the AU-719. It represents the very latest developments in audio and electronics technology. It is so good, in fact, that it has replaced its rave-reviewed, best-selling predecessor as the partner of the TU-717 tuner.
The TU-717's performance has been extravagantly praised by professional critics and knowledgeable consumers alike. With advanced features like switchable IF bandwidth and specs like 81dB signal-to-noise ratio and 0.06% THD, it's only natural.
We expect the tuner's new mate to receive a tremendous reception and set industry amplifier standards for a long time to come. Here's why.
INTRODUCING DD/DC
What particularly distinguishes the new AU-719 amp is Sansui's patent-pending DD/DC (Diamond Differential/DC) circuitry that provides the extremely high drive current needed to reduce THD by adding large amounts of negative feedback without compromising slew rate or adding TIM. Slew rate refers to an amplifier's ability to respond to rapidly changing musical signals. The slew rate of the AU-719 is an astounding 170V/µ Sec.
MAGNIFICENT MUSIC
Many modern amplifiers have extremely low total harmonic distortion specs. And that's important.
But THD is measured with steady test signals and is not really representative of an amp's ability to deal with music. Sansui alone, with it's DD/DC technology, is able to provide both low THD and lowest TIM simultaneously. Instead of the harsh metallic sound you sometimes get on a conventional amp when the musical signals are complex, with the AU-719 you hear only magnificent music.
THD is less than 0.015% at full rated power of 90w/channel, min. RMS, both channels into 8 ohms from 10 20,000 Hz. Overall frequency response is awesome: DC 400,000 Hz, +0,-3dB. Hum and noise are a super-silent-100dB on aux and-88dB on phono. The phono equalizer, which adheres to the standard RIAA curve within ±0.2dB from 20 20,000 Hz, also uses our unique DD/DC circuit for record reproduction that's second-to-none.
CONTROL YOURSELF
The unit is equipped with a full complement of versatile controls and connections to create the system and sound that's right for you, including two phono and two tape inputs, defeatable tone controls with switchable center frequencies, deck-to-deck tape dubbing and a very convenient 20 dB muting switch.
Audition the new AU-719 and matching TU-717 at your authorized Sansui dealer. We think it will be the start of a very successful relationship.
SANSUI ELECTRONICS CORP.
USA: Lyndhurst, New Jersey 07071 and Gardena, Ca. 90247; Sansui Electric Co., Ltd., Tokyo, Japan; Sansui Audio Europe S.A., Antwerp, Belgium.
(Source: Audio magazine, Mar. 1980)
Also see: Sansui AU-919 integrated amplifier (Mar. 1979)
Sansui G-line electronics (ad, Feb. 1979)
= = = =