MUSIC OR MAGIC ... ?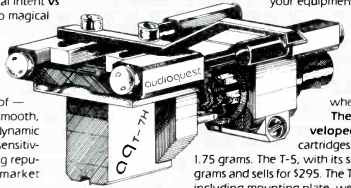 When developing a new product many decisions must be made and many different parameters must be balanced. The best audio equipment is the result of someone listening very carefully and being very sensitive to the notion of musical intent vs information processing. There are no magical solutions, alchemy isn't the answer.
If we wanted to sound trendy we would call our approach "holistic".
The new AO T-5 and AO T-7 moving coil cartridges have a musical balance we are very proud of a combination of superior tracking, smooth, clean, fast, neutral sound, high dynamic contrast and a minimum of tone arm sensitivity. AudioQuest has earned its strong reputation in the quality cartridge market with its high output moving coils. Almost single-handedly, AQ has made most pre-preamps and transformers obsolete. The AQ T-5 and T-7 are available in 3 output levels so you can choose the best one for your equipment. The T-5H and T-7H have an output of 2.2mV for all normal phono inputs. The T-5M and T-7M are 1.1mV and are perfect for "high gain" preamps (which includes almost all current tube units). The T-SL and T-7L are .22mV and should be used when a top quality MC input is available.
The AQ T-5 and T-7 use a specially developed tapered titanium cantilever. Both cartridges have a compliance of 12 and track at 1.75 grams. The T-5, with its solid brass mounting plate, weighs 8.8 grams and sells for $295. The T-7 has a solid sapphire support system including mounting plate, weighs 6.9 grams and sells for S495. The AQ M-1 induced magnet cartridge at S95 and the AQ MC-3 high output MC at $145 also set value standards that can't be matched.
aq -- audioquest
AudloOuest brings your system to life!
412 N. Coast Highway, #8-360, Laguna Beach, California 92651 714/720-1995
(Source: Audio magazine, March. 1985)
Also see: AudioSource SAEC's WE-308N tonearm (Nov. 1978)
= = = =