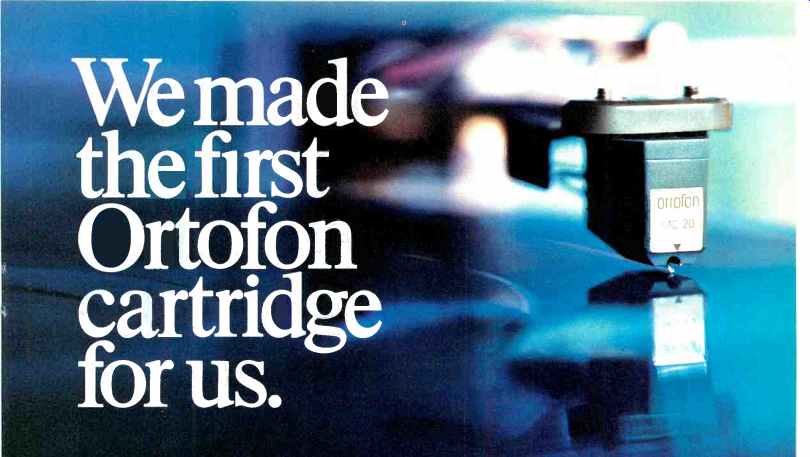 We made the first Ortofon cartridge for us.
As far back as 1945, Ortofon was making the cutterheads used throughout the world to cut the grooves in master phonograph records. But the phono playback cartridges then available could not put our cutterheads to the test for sensitivity and capacity.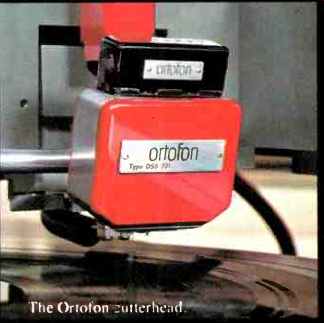 So we made our first phono cartridge. For us.
Since then our cutterheads have moved ahead--with a quality we couldn't even imagine in 1945. So have our phono cartridges.
The new MC20 moving coil phono cartridge is the hest we've ever made. We believe it is the finest available for professional or home use.
The MC20 has the lowest stylus tip mass ever attained on a phono cartridge. A flawless, fine line diamond stylus is fixed directly (without the usual sleeve) to a stepped, low mass cantilever. Beryllium filling enables the cantilever to attain rigidity despite its minute dimensions. The moving coils are wound with wire one-fifth the thickness of a human hair.
The moving coil principle.
with its low inertial mass, wider frequency response, low distortion as well as low tracking force, has clearly established its sonic superiority over any other phono cartridge system. Our new pre-preamplifier, the MCA-76, is also available to process the signal of the MC20 or any other moving coil cartridge.
The MCA-76 features low noise circuitry, a subsonic filter and a bypass switch which accommodates all magnetic cartridges.
We'll be pleased to forward data or the entire Ortofon line.
We suggest that you write to us directly. Ortofon, Dept. C, 122 Dupont Street, Plainview. New York, 11803.
ortofon
(Source: Audio magazine, June 1977)
Also see: Ortofon OM Series phono cartridges (July 1985)
= = = =