Speaker design takes five steps forward.
Quietly.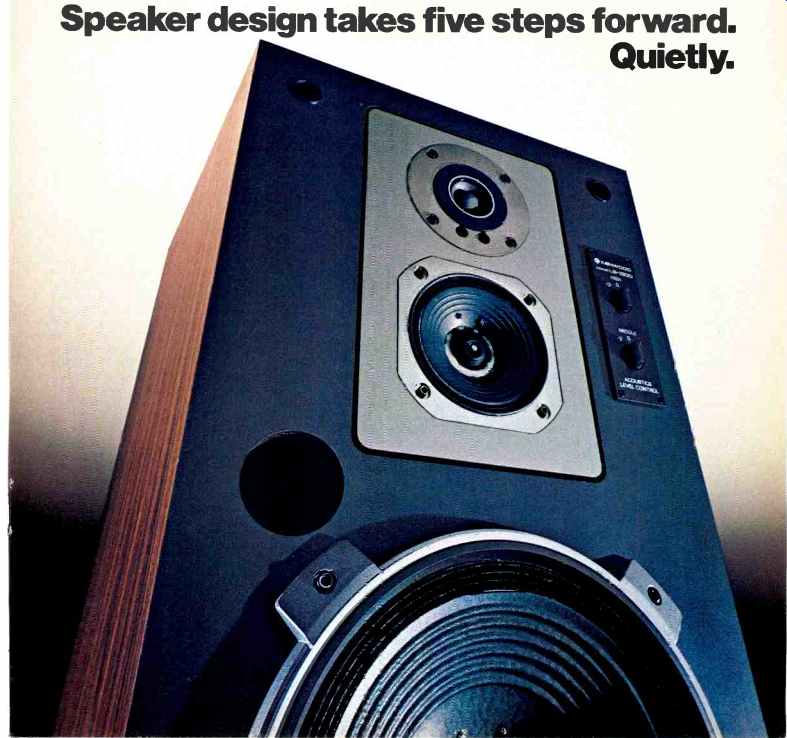 Inside, most speakers look pretty much the same. Drivers, baffle board and enclosure. Which is why some manufacturers make so much noise when they come up with anything new.
But in the midst of all the uproar, Kenwood's engineers have quietly developed five important design improvements you won't find anywhere else.
1. Separate front baffles. We mounted the mid and high frequency drivers on a separate baffle board. That keeps the woofer's vibrations from interfering with the mid and high frequencies. So you can get solid bass without losing any of the vocals.
2. Cross-over coil positioning. We found that two coils next to each other on a crossover network can cause signal leakage from the midrange to the woofer. By isolating the coils away from each other, we eliminated cross-talk and muddy midrange.
3. Thermal/shock cone construction. We manufacture cur own wood-pulp cones by applying our exclusive heat/shock treatment. This creates a cone that is more rigid than the usual pressed type for low distortion, yet light enough to deliver much better efficiency.
4. Midrange stabilizer. To get the nasal sound out of the midrange frequencies, where most of the music is, we introduced a center support system and a 3-point cone suspension. To you That means clear sound imaging and better transient response.
5. Power linearly. The frequency response of most speakers deteriorates at high power levels. By using a computer, we designed the LS-1200 to deliver the same linear frequency response throughout its power handling range. From solo flute to full orchestra.
Listen to the LS-1200 at your Kellwood dealer and discover that, even at low listening levels, you get exceptional depth, clarity and fidelity. At high volume, it delivers the kind of tonal quality you normally expect from a live performance with a clean, punchy bass and clear, open highs.
That's one more reason the LS-1200 is simply too good to keep quiet.
Your speaker's reputation should be as good as your receiver's.
KENWOOD -- For the Kenwood dealer nearest you, see your Yellow Pages, or write Kenwood, P.O. Box 6213, Carson, CA 90749.
(Source: Audio magazine, Aug. 1979)
Also see:
= = = =