It was a college broadcast facility; Now it's a public radio station; KUSC, Los Angeles, still has a Stanton in every turntable.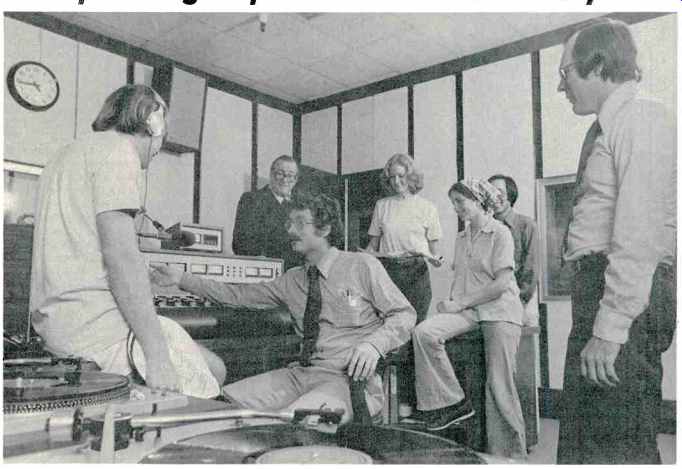 Above: A group of the staff meet in the Broadcast Studio of the Station.
It is interesting that the station which provides top quality classical music service to Los Angeles was an outgrowth of a College Radio Station ... and still bears its original call letters.
It now has been incorporated into the public broadcasting system since it was regarded as "too important a facility to be operated only by students in as large a city as Los Angeles''. It serves all of Los Angeles, Ventura and Orange Counties (10 million persons in the market), with a format of 85% classical music and 15% informational programming primarily from the National Public Radio Service. KUSC goes direct from disc to air and uses the Stanton 600E on its turntables.
Since the station has received substantial university support for upgrading their sound, which includes a new transmitting system ... new tower antenna ... new control board ... new turntables... and new cartridges ... KUSC plans to install Stanton's Calibrated 681 SE cartridges in all their turntables.
So, their sure-to-improve sound is certain to have a favorable impact on their growing audience.
Stanton's 681 Calibration Series cartridges offer improved tracking at all frequencies. They achieve perfectly flat frequency response to beyond 20 Khz. And the top-of-the-line superb 681 Triple-E has an ultra miniaturized stylus assembly with substantially less mass than had been thought possible to achieve.
Each 681 Series cartridge is guaranteed to meet its specifications within exacting limits, and each one boasts the most meaningful warranty. An individually calibrated test result is packed with each unit.
Whether your usage involves recording, broadcasting or home entertainment, your choice should be the choice of the professionals ... the STANTON 681.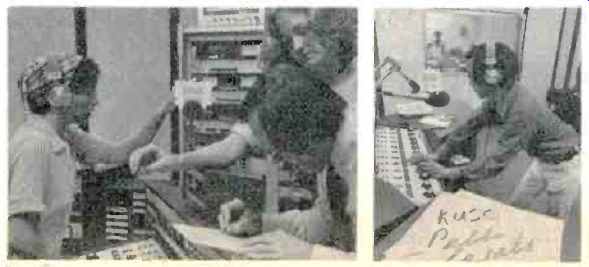 (left) Ellen Falconer, a broadcast engineer, with two of her associates. (right) Gilbert Kuang, engineer, at the Master Control Console.


(left) Ellen Falconer, engineer, signaling the start of a scheduled broadcast. (right) Alan Parker of the Programming Dept. completing a critical listening session in the Record Literacy.
Write today for further information to:
Stanton Magnetics, Inc., Terminal Drive, Plainview, N.Y. 11803. USA.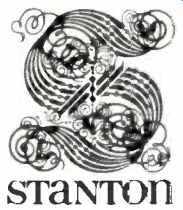 © Stanton Magnetics Inc., 1977 Stanton.
(Source: Audio magazine, Sept. 1977)
= = = =