Only three receivers in the world give you master control of the entire music spectrum.
JVC believes that when you buy a full performance stereo receiver you should be able to get full performance from it.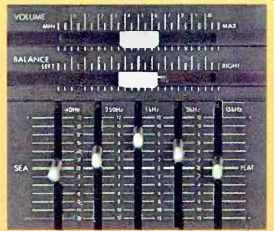 Without having to buy expensive add-on accessories.
That's why one of the very special features built into JVC's three new top-of the-line receivers (JR-S300 II, JR-S400 II, JR-S600 II) is our exclusive SEA five zone graphic equalizer system. It totally eclipses the capability of conventional bass/midrange/treble tone controls of other receivers. With SEA you're in complete command of every segment of the musical spectrum-from gut bucket bass to coloratura highs. SEA also permits you to custom tailor the sound to the acoustics of any room, and to compensate for the shortcomings of other components in your system.
And if you're a recording buff, you'll appreciate another exclusive JVC professional touch. You can switch the SE equalizer section into the tape recorder circuit for simultaneous equalization while you're recording.
While these unique features alone set JVC's pace-setting receivers apart from the common herd, we're further insuring top performance with a solid combination of additional features.
And all the power you'll ever need to drive your favorite speakers.
So its up to you. Which do you prefer? A JVC professional receiver with a built-in SEA graphic equalizer. Or one that leaves it out.
JVC America Company, Division of US JVC Corp., 58-75 Queens Midtown Expressway, Maspeth, N.Y. 11378, USA
Ph: (212) 476-8300.
JVC -- We build in what the others leave out.
(Source: Audio magazine, Oct. 1977)
Also see: Advent Model 300 Stereo Receiver (Sept. 1976)
= = = =