SWEEP CLEAN ... With a Keith Monks Record Sweeper. Built to provide day-to-day care for records, while they're being played, the Record Sweeper has low-friction all-metal pivot bearings and a solid metal pedestal.
And the Record Sweeper has a special nonferrous static conductor built into the brush assembly. A simple connection to the turntable earth collects static charges from the record surface so records stay cleaner longer!
SOUND CLEAN...
More than 5,500 Keith Monks Record Cleaning Machines are in use by professionals, throughout the world.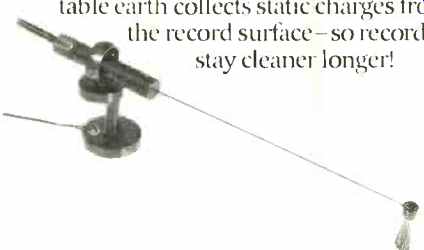 Record dealers use them to provide a profitable on-the-spot record cleaning service, too.
For keeping records in immaculate condition the Keith Monks Record Cleaner is unbeatable! Known the world over as the only effective method of cleaning records.
...ON THE LEVEL
With a Keith Monks Turntable Leveling Kit. High-accuracy spirit level and precision screw feet give a level turntable in seconds. So anti-skating works efficiently, rumble is minimized, mechanical wear is reduced!
THREE GREAT WAYS TO BETTER SOUND ALL FROM KEITH MONKS AUDIO!
Please send me further details.
Name | Address
Keith Monks Audio ( USA) Inc.
42 Tiffany Place, Brooklyn, New York, 11231.
Telephone: (212) 596 3464
(Source: Audio magazine, Oct. 1977 )
= = = =