Phase Linear 400: The best selling amplifier in the world.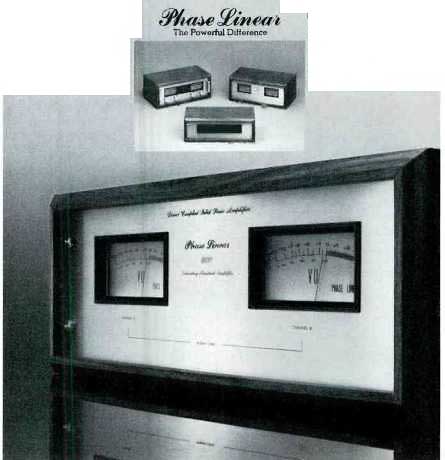 Since is introduction, the Phase Linear 400 Power Amplifier has been hailed internationally as the undisputed "best buy" and best performer among all the super amps available today.
And for good reason.
For some time most serious listeners have considered a high powered amplifier a necessary component in a home stereo system. Most high quality speakers are inefficient and demand great reserves of power to play recorded music at realistic levels.
But until the introduction of the 400, this additional power was an expensive extra few home stereo owners could enjoy. Advanced technology developed by Phase Linear has resulted in a high quality, high performance power amplifier that, at a suggested retail price of $499, becomes a practical investment for a stereo component system.
The Phase Linear 400, with its tremendous power reserve, enables your sound system to deliver real life listening levels with extremely low distortion levels without clipping...at a very reasonable price.
See your dealer for an audition.
Phase Linear -- The Powerful Difference
(Source: Audio magazine, Oct. 1977 )
Also see: Perreaux Audio (Nov. 1984)
= = = =