The 1980 Kenwoods.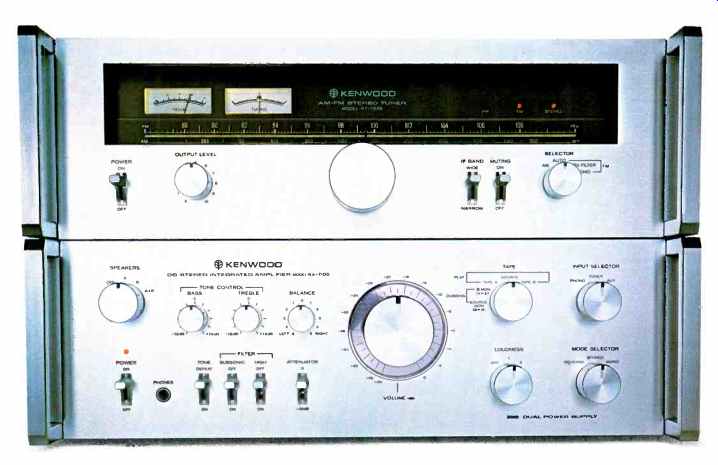 No. Were not kidding. By 1980, the kind of performance these new Kenwoods deliver will be considered commonplace. Here's a summary:
1. The KA-7100 is an integrated DC amplifier with dual power supplies delivering 60 watts per channel, minimum RMS at 8 ohms from 20-20k Hz, with no more than 0.02% total harmonic distortion. Not only is that the lowest THD of any integrated amp, the KA-7100 is the lowest priced DC integrated amp on the market. ($300)
2. The KT-7500 marks the next plateau for FM tuners. For optimum reception under any condition it has two independent IF bands: the narrow band virtually eliminating interference when stations are close together. the wide band for lower distortion and maximizing stereo separation. In addition, we've developed new circuitry which eliminates the high frequency beat distortion (that is. swishing noises) thought to be inherent in stereo FM broadcast. Even were impressed that it costs only $275.
This combination of separate amp and tuner not only gives you performance unheard of in other separate components, it gives you performance that will remain elusive in receivers for quite a while.
The Kenwood KA-7100 and KT-7500. Solid evidence that the breakthroughs occurred ahead of schedule, and available to you now for a truly remarkable price. $575* for the pair,
*Nationally advertised value. Actual prices are established by Kenwood dealers. Handles optional.
KENWOOD For the Kenwood Dealer nearest you. see your Yellow Pages, or write Kenwood. 15777 S. Broadway. Gardena, CA 90248
(Source: Audio magazine, Nov. 1977)
Also see: Kenwood KR-8010 receiver (Nov. 1978)
= = = =