THE WORLD'S MOST POWERFUL RECEIVER.
250 WATTS PER CHANNEL (MINIMUM RMS AT 8 OHMS, 20-20,000 HZ) WITH NO MORE THAN 0.05% THD.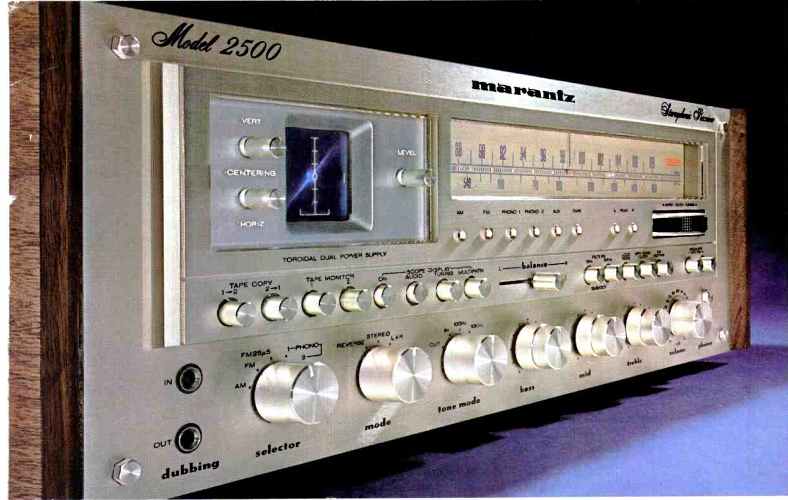 Not everyone can afford the Marantz Model 2500. In fact, you'll find that you have to spend a little more for any Marantz audio product. But when you do you'll possess the finest audio equipment in the world because you're buying better engineering and better quality.
What makes the Marantz Model 2500 worth more are innovations like the Toroidal Power Transformer that has been especially designed to give you two independent power supply sections, allowing each channel to perform at maximum efficiency and remain unaffected by the power demands of the other channel.
Plus, our tunnel "pin fin" heat sink is the most efficient cooling system ever used in a high fidelity receiver or amplifier.
The Model 2500 includes virtually the most sophisticated amplifier section on the market today: a full complementary symmetry direct-coupled output. The result is the highest possible day-in, day-out operating reliability and lowest Total Harmonic Distortion: no more than 0.05%. The Model 2500 also includes the most impressive performance feature package ever engineered into one receiver. You get a built-in oscilloscope, for precise signal display.
Plug-in optional Dolby* FM noise reduction circuitry for lowest noise possible with FM reception. And the most advanced noise filtering system ever developed. First, the 18 dB per octave Bessel-derived high filter-the most advanced in audio-reduces high frequency noise with a more natural, less colored sound.
The 18 dB per octave 15 Hz sub-sonic Butterworth low filter assures that all your power is used to reproduce only actual program material, not wasted on unwanted noise or rumble. 2 LED peak power indicators let you know when transients drive the amplifier to full output. 5-gang FM tuning capacitor, and dual-gate MOS FET FM front end ensure superior linearity and rejection of spurious signals with an IHF usable sensitivity of 1.5 microvolts and a 50 dB "quieting sensitivity" figure in stereo of 25 microvolts-the finest such specification ever obtained in a receiver-or even a separate tuner.
For music lovers who will accept nothing less than the very finest... and are willing to spend a little more to get it... the Model 2500 is the most significant receiver ever developed.
marantz
We sound better.
*TM Dolby Labs, Inc. ©1977 Marantz Co., Inc., a subsidiary of Superscope, Inc., 20525 Nordhoff St., Chatsworth, CA 91311.
Prices and models subject to change without notice.
(Source: Audio magazine, Nov. 1977)
= = = =