The yin to the yang of our convenient, electronically enriched modern lives is that everything is getting more complicated all the time. That's why an audio component that performs simply and superbly is a welcome addition to this audiophile's hectic existence. Give me a CD player that's easy to set up, easy to use, and, most important, does not get in the way of me and my music, and I'm as turned-on as President Clinton on White House intern-orientation day.
That's why it was love at first sight when I unboxed the Spirit CD 100 CD player from Denmark's Thule Audio. I was instantly smitten by the simple elegance of its matte black front panel, tastefully and subtly adorned with an appropriately proportioned LCD display, a CD drawer with stylish brushed-aluminum embellishments, ' and, amazingly, a single pushbutton control.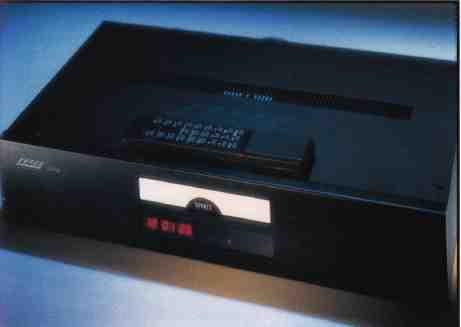 The Spirit CD 100's rear panel is almost equally simple, with a pair of stereo analog outputs, a coaxial digital output, and an IEC-type power-cord receptacle. ( Thule believes the player should be turned on all the time for the best sound, so the power switch is also located on the rear.) And the fact that the CD100 required only a bare-bones four-page instruction manual, which took all of five minutes to read, was an added bonus.
= = = =
Dimensions: 16½ in. W x 3 3/4 in. H x 11% in. D (42 cm x 9.5 cm x 29.5 cm).
Weight 14.4 lbs. (7kg).
Price: $995.
Company Address: c/o Sumiko, 2431 Fifth St., Berkeley, Cal. 94710
= = = =
Sumiko, the U.S. importer, also shipped me Thule's similarly styled and equally spartan IA60 60-watt integrated amplifier, which I used as the main amp for this re view. The remote controls that came with the CD player and amp were identical but, inexplicably, different from the one shown in the two components' manuals. (Sumiko informed me that the remotes pictured in the manuals are currently being supplied with the components.) In any case, having two remotes that could each operate both components doubled the odds that I'd find one when I needed it.
The Thule's "one knob operation," as described in the lit, was no misnomer (though it's really a pushbutton, not a knob). But I did have a little trouble, initially, deciphering the logic and sequence of the single control's functions. The remote control, on the other hand, had 24 buttons, all the same size and laid out pretty sym metrically, which made it fairly easy to hit the wrong one. But based on the picture in the instruction manual, the layout of the re mote control now being supplied is a trifle more user-friendly.
The only real operational quirk I encountered was that one out of every 15 or so times I loaded a CD, the display would report "NO DISC." Sumiko says this can happen when the disc isn't properly aligned in the tray, and I can confirm that each time I pushed the button again, the disc would play normally.
For my listening, I linked the CD 100's analog outputs to the amp via Kimber Hero interconnects. A pair of Vandersteen 2Ce Signature loudspeakers (reviewed in the September issue) were connected to the Thule amp with 8-foot lengths of Kimber BiFocal-XL cable. I also compared the Thule CD100 with the much less expensive but very transparent-sounding NAD 522 CD player.
= = = TEST RESULTS = = =
The Thule CD-100's frequency response (Fig. 1) shows a very slight droop at the uppermost frequencies, an even slighter one at the lowest. Not perfect, but the droops are small enough (0.1 dB at 20 Hz, 0.45 dB at 20 kHz) to be unremarkable. (Plotted on the scales we use for speaker measurements, even the worst CD player's response would be a dead-flat line.)
The Thule's crosstalk (Fig. 2) came as a mild surprise, being highest in the bass (just under —44 dB at 21 Hz) and very low in the treble (just over —75 dB at the curve's end) instead of the other way around. In any case, good performance, below —60 dB from about 130 Hz on up, and the two channels' curves were nearly identical.
A fussbudget could cavil about the 60-Hz noise bump in the left channel (Fig. 3), but even at its peak it's a mere —109 dBFS. (Tsk tsk? More like ho-hum.) Overall, A-weighted noise was 95.9 dB below 500 millivolts.
The Thule's DAC linearity (Fig. 4) is similarly boring, deviating by less than 0.1 dB almost everywhere and with a maximum deviation of +0.34, —0.5 dB. The test frequency was 4 kHz.
Dedicated graph watchers may perk up at Fig. 5, which presents a minor mystery. What's causing the ripples above 8 kHz or so in the bottom curve? Can't be the clock frequency or high harmonics, which would all be filtered out by the 22-kHz test filter used in generating that curve's data—but it's some kind of noise, most likely. Still, the numbers are low, not quite reaching as high as 0.02% until 20 kHz (and then only in one channel). Changing measurement filters to take in all frequencies up to 80 kHz does increase THD -4- N noticeably, but that's mostly because of noise, especially noise from the CD100's clock.
Except for Fig. 4, all measurements for the Thule CD player were made using 0-dBFS test signals.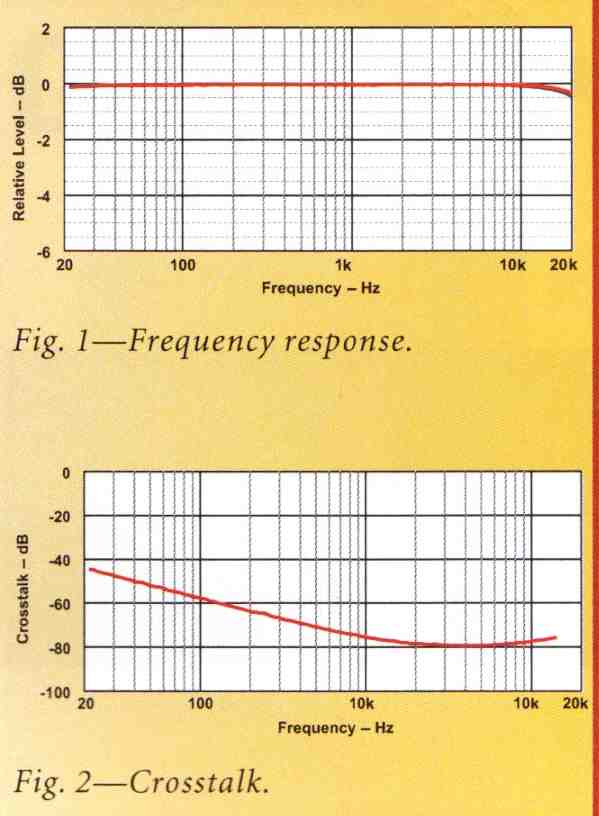 Fig. 1—Frequency response.
Fig. 2—Crosstalk.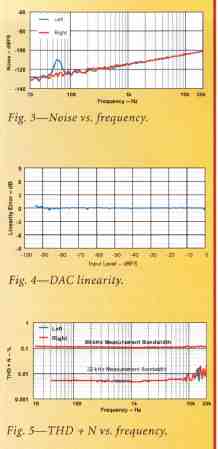 Fig. 3—Noise vs. frequency.
Fig. 4—DAC linearity.
Fig. 5 + N vs. frequency.
= = = =
Right from the point that I fed the Thule CD100 its first CD, I was impressed with its sound. In fact, I vividly recall what happened when I cued up Luka Bloom's stark '94 release, Turf (Reprise 45608), just after hooking up the player. My wife was reading on one side of the couch while I sat centered in the sweet spot. Ten seconds into the first track, "Cold Comfort," my wife looked up from her magazine and said, "Wow! That really sounds different!" (and this from a woman I usually have to address repeatedly—with more volume and more irritation in my voice each time—to divert her attention from the latest Martha Stew art Living and focus it on my system's sound). I repeatedly played Turf—which contrasts Bloom's boomy, resonant vocals with his steely acoustic guitar—over the four months or so I tested the CD100, and it was like discovering the disc's understated charms all over again. Delicate back ground details, such as the "mermaid" murmurs in "Sunny Sailor Boy," were effortlessly clear; with many players, I have to strain to hear them.
A disc that's spectrally similar to Turf is the Red House Painters' '95 release Ocean Beach (4AD 9 45859); I've used it regularly in the past few years to audition components and systems. The opening track, "Cabezon," is a loping instrumental with layered acoustic guitars that were well delineated by the Thule. The maudlin, melancholy voice of head Painter Mark Kozelek on the sparse and somber "Summer Dress" was rendered in all its pretentious detail. The droning electric guitar that forms this song's foundation was distinct, not just the background fuzz some CD players portray it as.
Bluesiana Triangle (Windham Hill Jazz WD-0125) is a captivating 1990 disc of a one-off blues/jazz/R&B collaboration of multi-instrumentalist/singer Dr. John, hornman David "Fathead" Newman, and the late, legendary jazz drummer Art Blakey. In the spirited instrumental opener, "Head's Up," spaces in the soundstage were large enough to drive a semi through, and the overall presentation was stunning. The spectral balance on "Life's a One Way Tick et" was as good as I've ever heard it, and the timbre of the instruments was spot-on, with only a little high-frequency edge to Newman's saxophone. The sound of Dr. John's cascading piano riffs was so sensual it made the roof of my mouth tingle, and his vocals had the appropriate amount of growl. On the disc's highlight, the 10- minute jam "Shoo Fly, Don't Bother Me," Dr. John's piano chords and Newman's flute solo were palpably lifelike, with just a little treble overemphasis. Blakey's extended drum turn, which closes out the track, was so accurately reproduced that I could feel the vibrations from his kit, and the Spirit CD 100 wrung every bit of subtle de tail out of Dr. John's understated back ground guitar fills.
On "A Novidade" from Gilberto Gil's '94 live recording Acoustic (Atlantic Jazz 82564), tonal balance was excellent. Gil's reedy tenor was faithfully reproduced, and Lucas Santana's trilling flute solo—always a tough test—was surprisingly smooth and not at all spitty-sounding. The detail in Gil's hushed vocal fade-out at the end of "A Novidade" showed that the Spirit CD100 handles low-level information with ease. Virginia Rodrigues' voice in "Negrume da Noite," from the Brazilian singing sensation's 1997 debut disc Sol Negro (Hannibal/Natasha HNCD 1425), sounded immaculately clear, and the handclaps in the song were placed in the soundstage with pinpoint precision. The a cappella track "Veronica" sounded as though there were nothing between Rodrigues' angelic voice and my ears.
While I liked the Thule's sound overall, it did seem a bit forward compared with that of the more neutral NAD player. On Texas- based singer/songwriter Alejandro Escovedo's thematic '93 recording Thirteen Years (Watermelon CD 1017), the swooping strings that kick off "Ballad of the Sun and the Moon" were brighter-sounding; on "Helpless" the electric bass guitar was supple and the drums seemed weighty and convincing, but Stephen Bruton's keening slide guitar had a grittier sound than I'm used to from the NAD.
In day-to-day operation, my interaction with the Thule Audio Spirit CD100 was largely uneventful—just the way I like it. I loved the CD 100's distinctively understated styling and really valued its low-key front- panel layout, especially since I have a curious, hands-on toddler in the house. The player was easy to operate, once I got used to its few quirks, and sonically it performed admirably. If you're hunting for a high-end CD player that will help you get the most out of your music with the absolute mini mum of complications and frills, the Thule Audio Spirit CD100 fills the bill—simply and superbly.