---
---
.

Long laboring in the shadow of the famed Boston Symphony Hall, Mechanics Hall, in nearby Worcester, Massachusetts, quietly continues to provide musicians and recording engineers a sonic preeminence that stretches over 135 years. Once an ante bellum showcase whose stage was shared not only by the symphonies and ensembles of its age, but also by such notables as Charles Dickens and Mark Twain, and whose walls echoed early antislavery rhetoric, Mechanics Hall is sought out in the 1990s as a venue for making high-tech digital recordings.

In the past few years since its "rediscovery," Mechanics Hall has been the site of several top CD recordings on such labels as Sony Classical and Telarc. They, in turn, have been able to lure the talents of Yo-Yo Ma, Emanuel Ax, and John O'Conor, partly because of the quality of the hall's sound. Indeed, Yo-Yo Ma has called it "the ideal concert hall," and pianist Anton Kuerti wrote in the guest book, "Just as the hall is so beautiful, one fears to wound it with a single wrong note."

Architectural historians have not been faint with their praise of Mechanics Hall, terming this jewel in the heart of a post- industrial New England city one of the finest remaining examples of pre-Civil War the hall was finished, but there was not enough money for an organ, a necessity of the day. That came seven years later, and today the organ is historically important in its own right.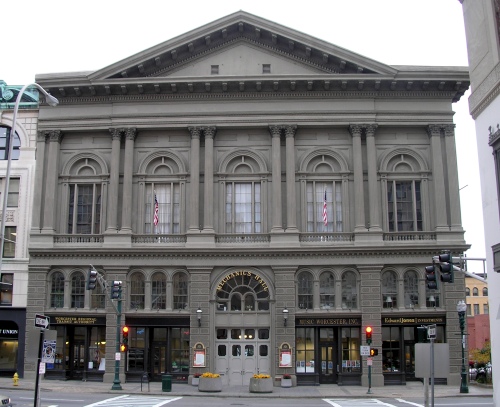 Restored to its original elegance in the mid-1970s, it is now easy to see why Mechanics Hall evolved into a focal point for the greater Worcester community. The list of notables to grace its stage reads like a cultural and political Who's Who of the 19th and 20th centuries: Thoreau, Teddy Roosevelt, Caruso, Dvo and lately, pop musicians such as Judy Collins, who signed the guest book and added, "This is truly one of the best halls in the world. I always love performing here."
Left to decay in the rush of the mid-20th century, Mechanics Hall nonetheless retained its quality of sound, despite being concert halls. Built during the opening shots of the Industrial Revolution, Mechanics Hall was meant to house the activities of the Worcester County Mechanics Association and to function as a living showcase for their talents as artisans. That was no mean feat, for these "mechanics" were promoting themselves in a recessionary climate of their own—Industrial Revolution notwithstanding. Through sheer de termination and some local sponsorship, relegated to such unhappy uses as a market and even a roller-derby rink. Amid neglect and tasteless attempts to "modernize" the hall, occasional social, musical, and cultural events were staged. Despite the reconstructions and industrial paint schemes, however, the hail rang true.

ABOVE: Reminiscent of the great concert halls of Europe, Mechanics Hall was restored in the mid-1970s to its original antebellum splendor. Today, Mechanics Hall is known as much for its audio qualities as for its historic significance.
Local pressure and the 1970s' push for historic preservation helped spare the building from the wrecker's ball and the worst of all American architectural fates— the indignity of giving way to a parking lot. Restoration of Mechanics Hall began about the time of the nation's Bicentennial celebration and presaged a renaissance in this working-class city some 50 miles west of Boston. The restoration now includes a cast-iron facade, exposure of true Early American graffiti dating to 1869, a wooden ticket kiosk, and the refurbishing of "the Worcester organ." (The organ is a 52-stop instrument built in 1864 by the Hook Brothers of Boston and remains steeped in Worcester's cultural competition with that "other city" to the east. Today, it is the oldest unaltered four-keyboard organ in the Western Hemisphere.)
---[64,65] Nearly camouflaged by the city itself Mechanics Hall (with its new rear entrance) has become a symbol of the renaissance of the industrial city of Worcester, Massachusetts, some 50 miles west of Boston.
The Modern Era
As one steps off the concrete and asphalt of 1990 Worcester and into the hail, there is an immediate psychic shift back in time, perhaps to a fine European concert hall. A
grand staircase sweeps to the Great Hall, embellished with an authentically restored coffered ceiling, original fresco paintings, Corinthian pilasters, and a balustraded balcony. And all this was effected by a self- taught local architect who borrowed heavily from local meeting halls and churches as well as from European performance halls.
What modern-day artists and recording engineers have discovered at Mechanics Hall is the very sound quality architect Elbridge Boyden created in Worcester so long ago. Whether it was intentional on his part or not, we will likely never know.
Having trained as a meetinghouse builder, Boyden was a product of the early 19th-century apprenticeship system. There are obvious design similarities between Mechanics Hall and several great European halls, and some have suggested that Boyden copied the design of the then-celebrated Miller's Assembly Hall in New York City. Be that as it may, within the environs of Worcester, there are numerous meeting- houses, some built as churches, that bear the stamp of Boyden's skills. Thus, historians are convinced that Boyden did draw heavily on meetinghouse design, however much he was influenced by European de sign. In early New England, meetinghouses were places where citizens met and voted; this required that orators be heard at the back of the hall. In the final analysis, Boy- den kept faith with the promise that every word spoken, every song sung, and every note played would be heard and reverberate throughout the hall. Many speakers and musicians today note how well Boyden practiced a science that didn't even have a name when Mechanics Hall was designed some 140 years ago.
Says the hall's technical director, Joseph Chilorio, "What recording engineers are looking for primarily in such a venue is the so-called sound of the hall and the appropriateness of the hail for the kind of music they are going to record.
"The sound of the hall is its reverberation time. And that reverberation time has to be appropriate to the kind of music being performed." Chilorio gives an example:
An organ recording in a room too small doesn't have enough reverberation time, and the sound will just not be correct. It will sound dry and will be criticized for not having a fullness of tone. "Engineers know what they want," he says. "That special sound. They know that Mechanics Hall makes a certain sound. Part of that is the reverberation, part is the way the sound decays, and part is the frequency content of the reverberation."
At Mechanics Hall, low frequencies reverberate a bit longer than the high frequencies. This tends to give the hall "warmth," Chilorio says, yet the high frequencies reverberate long enough to give the hall enough brilliance so the music doesn't sound dead. Upon walking into the hall and speaking in low conversational tones, one can immediately feel the reverb he's been talking about. Chilorio halts his presentation and claps his hands. "Note the crisp decay," he says. "That comes as much from the materials used in construction as the 'shoebox' design.
"In the days of 1857, you could use wood, brick, and plaster as primary building materials," says Chilorio, and those halls that used wood and plaster "seem to have the best reverberation characteristics. Plaster, especially plaster on brick, gives a brilliant reverberation and high-frequency sustain. It is a very hard surface which reflects sound in many different directions. The plaster is not smooth and is full of architectural ornamentation. So, when sound hits it, the sound scatters in many directions, giving it diffuse characteristics and allowing the sound to decay uniformly."
In a quiet, empty Mechanics Hall, sound decay is just over 2 seconds. "On a particularly humid day with everything possible removed from the hail, and if the hall's historic organ were to be recorded," Chilorio said that he expects decay time of 2½ to as much as 3 seconds. "One thing engineers have to consider is the time of year they are recording." Since reverb time varies with the season and with humidity, and if you want to record on CD, you have to record all tracks at the same time of the year. He noted Telarc began recording Cleveland String Quartet tracks last May and will come back this May to do the remainder— it just wouldn't sound the same if they came back in February.
Scientific Soundings
About the time of its refurbishment, acoustical studies of the hall were per formed. Consultants were, once they got past their excitement over this "find," lavish in their praise of Mechanics Hall. William Cavanaugh, senior partner in Cavanaugh Tocci Associates, studied the sound quality of the hail and investigated ways to restore and upgrade the facility to late 20th-century standards without sacrificing the "quality of sound" to such urban problems as traffic or to the building's mechanical structure.
Hailing the hall for its "classic proportions" and lack of echo from Day 1, Cavanaugh concluded that the intimate size (only 1,500 seats), volume, distance from stage to listeners, and its shoebox shape were the predominant factors in the hail's acoustic quality. The fact that the hall is on the third floor of the structure (saving more lucrative rental space below for offices and shops) further added to sound quality by isolating the Great Hall from ambient sound, which is critical for sensitive digital recording technologies. Both engineers and artists like the hail for that reason—they can use it during the day, unlike some sections of New York City where sessions must take place in the wee hours of the morning.
Intimacy, for 30 years since the "Music Acoustics and Architecture" study by Leo Beranek, has been considered the foremost attribute for sound quality. Cavanaugh's study rated Mechanics Hall high for intimacy, an element not lost on today's technically minded recording engineer. Liveliness and warmth, second and third in Beranek's "Subjective Attributes in Music Acoustics," remained intact during and after renovation. No sound-absorbing materials were added, and such subtleties as upholstery material were specified to ensure uniform reverberation and faithfulness to the original construction. Cavanaugh measures a mid-frequency reverberation time (average of values at 500 and 1,000 Hz) of 1.6 seconds when the hall is fully occupied.
With all of this good old-fashioned sound around, what more would an historic hall like this need to offer? Early in the hall's renaissance, Chilorio recognized the world-class value of Mechanics Hall and invested his time, skills, and his own money in a cooperative venture to ensure that a studio as state of the art as any in America would be available for recording. Recording companies bring their own basic equipment, and Chilorio supplies speakers, amps, video monitors, and a two-way communications system between the hall and the studio. The facility was good enough to earn the local National Public Radio station, WICN, two prestigious Lucien Wulsin Performance Today Music Awards for recordings engineered and produced by Chilorio. The local production was later nationally syndicated.
With as much history and sound as there is about Mechanics Hall, there is also a 19th-century beauty that can't be captured on audio tape, though it was captured on videotape—a music video of "Only You" by Broadway stars Michael Crawford and Frances Ruffele. The one continuous session, from 5:00 am, one day to 9:00 p.m. the next, was certainly the longest in Chilorio's career.
But to him, that was an historic footnote. Audio is the thing. Mechanics Hall has be come part of the music mix, a sounding board with "that special sound." Listed on the National Register of Historic Places, Mechanics Hall is a "Preservation Hall" of another kind.
= = = =
Some CDs recorded at MH:
Rachmaninoff and Prokofiev: Cello Sonatas; Yo-Yo Ma and Emanuel Ax; Sony Classical SK 46486; June 25 to 27, 1990
Mozart: String Quartets, No. 14 (K. 387) and No. 15 (K. 421); Cleveland Quartet; January 10 and January 15 to 17, 1991
Handel: Concerti Grossi, Op. 6, Nos. 1 to 6; Boston Baroque; Martin Pearlman, Director Telarc CD-80253; January 5 to 7, 1992
= = = =
References:
wikipedia -- Mechanics Hall (Worcester, Massachusetts)
Historic Buildings of Massachusetts
[Adapted from 01-1993 issue of ]