Precision and elegance.
The newest Quartz-Servo by Sansui.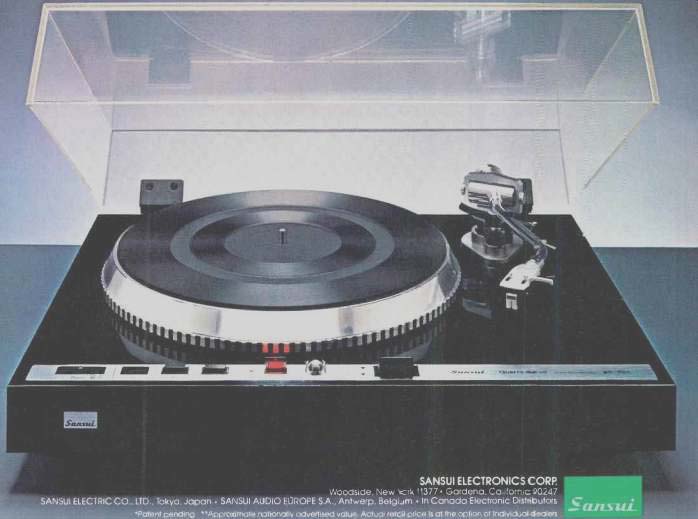 Introducing the Sansui SR-838, a luxurious new direct-drive turntable that performs silently with rare and fine precision. Free from howl and feedback, the SR-838 complements the superior tonal quality and the exacting standards of today's most sophisticated component systems.
The SR-838 Quartz-Servo delivers reproduction so accurate it may astonish you. With motor speed locked to the precise control of a highly refined quartz =1 crystal, wow and flutter is unusually low, less than 0.025%, and platter speed deviation less than 0.002%.
Absolute stability of the single strobe pattern always verifies this platter rotation accuracy.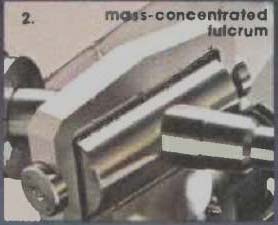 Sansui engineers have also designed a unique new tonearm for the SR-838. It features a Mass-Concentrated Fulcrum design, with wide-set pivot points, to suppress unwanted front back / left-right vibrations. Inside the tubular tonearm is a special resin* that prevents resonance. And the entire unit is firmly mounted on a zinc die-cast base for the most stable performance you can find.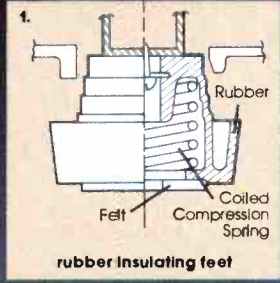 Coiled Compression Spring; Felt; rubber insulating feet
The Sansui SR-838 offers all the performance advantages you'd expect from a super or turnable, plus more.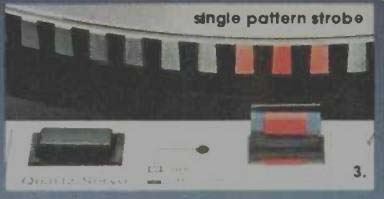 Such as fine pitch control, an electronic brake for speed changes, a skating force canceller, and an of-damped cueing lever. And he newly designed rubber insulating feet provide superior feedback isolation.
To top it all, the SR-838 is a feast for the eyes as well as the ears. All controls are positioned up front for easy access and operation. And the satiny piano lacquer finish glows with the elegance of simplicity.
See the SR-838, at less than $390, including base and dust corner, at your nearest franchised Sansui dealer. Hear it, and you'll discover that advanced technology and precision design do indeed make a difference. All the difference in the world.
SANSUI ELECTRONICS CORP.
Woodside, New York 11377; Gardena, Calif. 90247
SANSUI ELECTRIC CO., LTD., Tokyo, Japan.
*Patent pending
**Approximate nationally advertised value. Actual retail price is at the option of individual dealers
(Source: Audio magazine, Oct. 1977 )
= = = =