THE ADC CARTRIDGE CAUSES NO PERCEIVABLE WEAR OVER THE LIFE OF YOUR RECORDS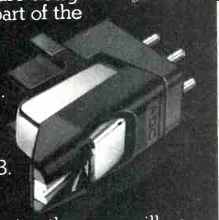 Unbelievable? Believe it.
A series of tests conducted by a leading independent audio-testing laboratory prove it.
The tests show that the ADC XLM-MKII partridge causes no perceivable wear until after 60 plays. Industry sources estimate the life of a record" (the average number of times a record is played) to be 40 to 50 plays.
Other cartridge manufacturers may talk about less record wear, but ADC has proven no wear over the life of your record.
The reason for this is our unique patented design.
It's patent #3294405.
We call it the "induced magnet" cartridge.
Most cartridges. are designee so that a heavy magnet is part of the moving system.
The ADC XLM-MKII is different, because our engineers found a way to detach the magnet and reposition it above the stylus, so the stylus applies less pressure against the groove.
Less pressure means less wear.
The fact is, of all the leading brands, ADC cartridges have the lowest mass moving system you can buy. That means better sound and superior performance.
The XLM frequency response is exceptionally flat, from 15Hz to 24KHz ± 1.5dB. And for the ultimate in stereo reproduction, it has a minimum of 28dB of channel separation.
THE ADC LOW MASS CARTRIDGE. IT HELPS YOUR RECORDS LIVE LONGER.
Think about it. In the long run you'll probably spend more on your record collection than you will on
your whole stereo system. So it makes sense to build a cartridge with proof that it makes your records sound better and live longer.
The ADC low mass cartridge.
Unbelievable.
---
THE PROOF: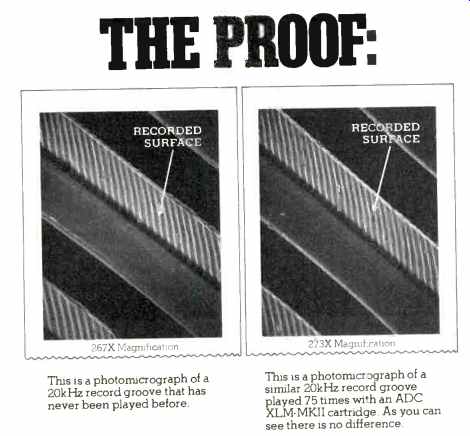 (left) This is a photomicrograph of a 20kHz record groove that has never been played before. (right) This is a photomicrograph of a similar 20kHz record groove played 75 times with an ADC XLM-MKII cartridge. As you can see there is no difference.
THE DIFFERENCE: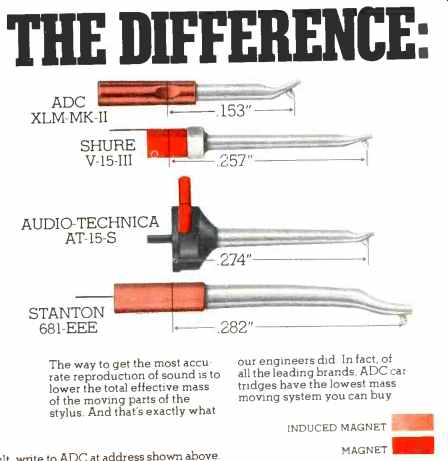 The way to get the most accurate reproduction of sound is to lower the total effective mass of the moving parts of the stylus. And that's exactly what our engineers did. In fact, of all the leading brands, ADC cartridges have the lowest mass moving system you can buy.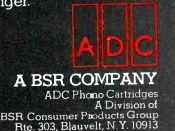 ADC--A BSR COMPANY--ADC Phono Cartridges, A Division of BSR consumer Products Group, Rte. 303, Blauvelt, N.Y. 10913, USA.
(Source: Audio magazine, March 1977;)
= = = =