Performance.
Scott Stacks Up.
Every serious listener knows that separate tuners and amplifiers offer greater system versatility and flexibility than the all-in-one receiver. But Scott separates stack up where it really counts as performance.
Every one of Scott's complete line of tuners and amplifiers is engineered and designed to give you all the performance features you expect, at a price no higher than many receivers currently on the market.
Scott's T 526 AM/FM Stereo Tuner and A 436 Integrated Power Amplifier provide such important performance features as front panel Dolby de-emphasis switching, a phase locked loop multiplex section and linear motion calibrated controls.
And that's only part of the story. Compare these important performance features, with any other medium-priced tuner and amplifier on the market today.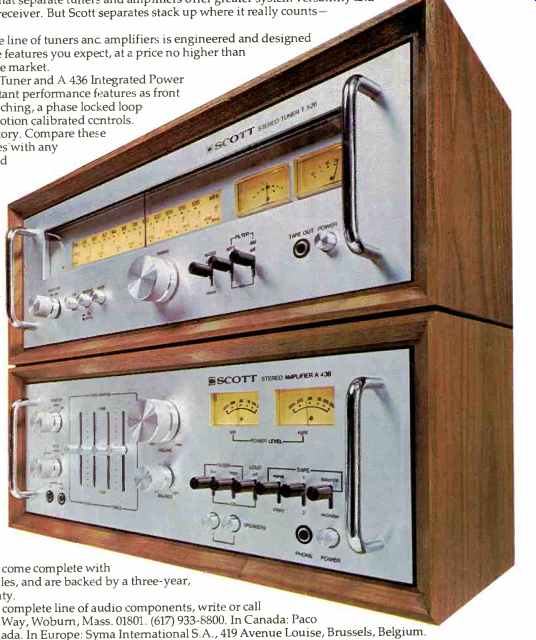 The Scott T 526 Tuner
IHF sensitivity rated at 1.9 µV, S/N ratio 68 dB and a capture ratio of 1.5 dB. Signal strength and center channel tuning meters.
Four gang tuning capacitor for better image rejection.
AM section designed around a tuned RF amplifier using J-FET for improved signal-to-noise ratio.
AM noise suppression circuitry.
The Scott A 436 Amplifier
42 watts RMS per channel, driven into 8 ohms from 20 Hz to 20 kHz with no more than 0.3% THD. True logarithmic meter amplifier obviates the need for range switching.
Individual channel power level meters calibrated in % of full power output capability eliminates confusing dB and VU readings.
Two completely independent tape monitors allow two tape recorders to be used simultaneously for direct tape-to-tape copying.
Instantaneous electronic protection circuit in the output stage.
IM distortion lower than 0.15% for a cleaner sound without listening fatigue.
High and Low filters, two auxiliary outlets and mic inputs.
And the Scott T 526 and A 436 come complete with professional rack-mount handles, and are backed by a three-year, parts and labor limited warranty.
For specifications on Scott's complete line of audio components, write or call H.H. Scott, Inc., 20 Commerce Way, Woburn, Mass. 01801. (617) 933-8800.
In Canada: Paco Electronics, Ltd., Quebec, Canada. In Europe: Syma International S.A., 419 Avenue Louise, Brussels, Belgium.


H.H. SCOTT
The Name to listen to.
Receivers / Tuners / Amplifiers / Turntables / Speakers
=================
(Source: Audio magazine, May 1977; )
= = = =