Credentials Like These Are Worth Reading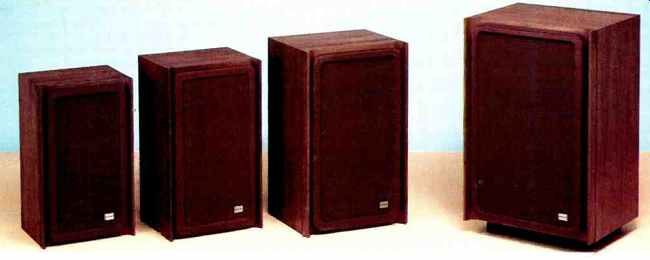 When you're buying speakers, you want to talk specs. And we don't blame you.
In fact, we encourage it. Because when you invest your good money in a pair of speakers, you want more than just a pretty cabinet.
Consider the new Jensen Spectrums. These good sounds didn't just happen. They're the result of extensive engineering efforts and exhaustive testing. Testing that ranged from exacting measurements in laboratory "live" rooms and anechoic chambers to in-depth con sumer surveys.
Examine our Spectrum Model 540. It's an excellent example of the superb specs you'll find throughout the Jensen Spectrum Series.
The Spectrum 540 is a 3-way, 4 element system that is so efficient it can be driven with as little as 10 watts continuous power. Its maximum power rating is 75 watts continuous.
The woofer is a 12" long-throw, high compliance design. Special acoustic suspension and infinite baffle enclosure give you extremely low distortion. And a high temperature voice coil affords high power handling. Magnet structure weight is a hefty 41 lbs. with a Gap Flux Density of 10,000 Gauss.
Two 3 1/2" cone midranges give excellent power handling and eliminate break-up in the critical midrange region. Tuned isolation chambers control response at the low end of the midrange spectrum. They also provide acoustical isolation in the cabinet between the midranges and the woofer. An edge damped rim suspension with specially treated molded cone offers sharp, clear, midrange reproduction.
A 1 1/2" Mylar rear damped hemispherical dome tweeter offers a dispersion of 170-degree. Its large, lightweight voice coil gives high power handling, yet maintains a low mass for good high frequency reproduction.

Tweeter and midrange controls allow you to adjust your Spectrum System to room conditions and listening preferences; controls are front mounted for convenience, continuously variable, calibrated in db attenuation from a maximum, or flat, response.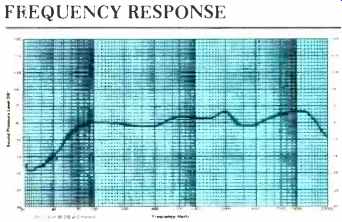 FREQUENCY RESPONSE
About as flat as you can get... and that's good. The Frequency Response Range is an admirable 25 to 25,000 Hz.


TONE BURSTS
"Blurring" and "Overshoot" are reduced to a minimum in this acid test of transient response. The Spectrum 540 reproduces each waveform accurately with low distortion.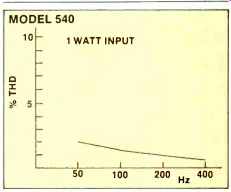 THD
Distortion is kept to a minimum in Jensen Spectrum Speaker systems.
The cabinet is built with solid walnut front moldings and walnut veneer on wood composition panels. All walnut surfaces are hand rubbed for a rich luster and beauty. The baffle is finished in an attractive, durable black pebble grain.
In short, Jensen Spectrum speakers aren't designed to put out the most amount of bass or the most amount of treble. They're designed to put out the right amount. We consider them to be the best speakers we've produced in 50 years. Simply because when it comes to sound reproduction, they're extraordinarily accurate. And that's what specs are all about.
For further information and name of your nearest authorized Spectrum Dealer, write to: Jensen Sound Laboratories, Dept. AM -774136 United Parkway, Schiller Park, Illinois 60176.
JENSEN SOUND LABORATORIES
Division of Pemcor. Inc.
Schiller Park, Illinois 60176
(Source: Audio magazine, July 1977)
= = = =