PROFESSIONAL
WUHY FNI, Philadelphia, rates Stanton 8815 superior in every aspect!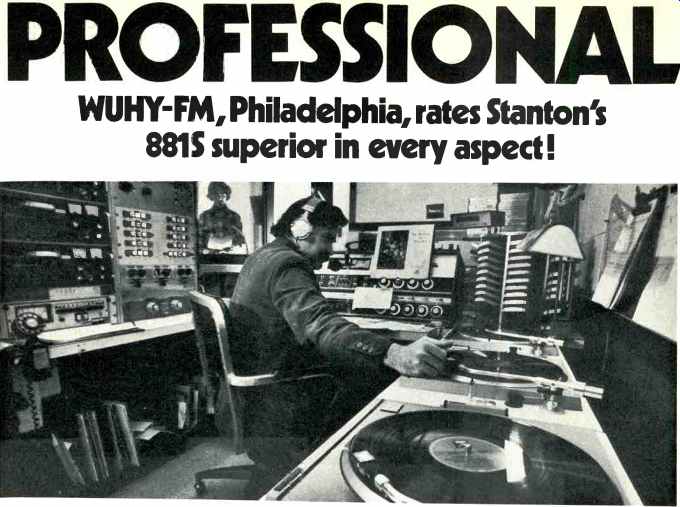 ABOVE: Disc Jockey, Stephen Brooks at the mike.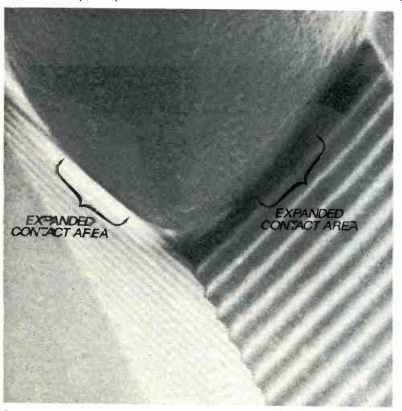 ABOVE: Scanning Electron Beam Microscope photo of Stereohedron stylus, 2000 times magnification; brackets point out wider contact area.
The Stanton 881S cartridge has been rated, worldwide, as the outstanding stereo cartridge of its time. So, it ought to be a rather delicate pick-up. Not so. says WUHY ... outstanding National Public Radio FM Station in Philadelphia.
Mr. Ajit George, Director of Development and Awareness, quotes his Engineering Staff in this way:
1) The 881S is rugged ... we back cue with no damage to the stylus.
2) It has excellent flat frequency response.
3) It handles high level complex music passages with complete freedom from mis -tracking.
4) The 881S has the highest output compared to average high quality magnetic cartridges, plus the fact that it gives superior signal-to-noise ratio from the phono preamp.
We are in total agreement with all of the above except, honestly, the 881 S was not designed for back cueing.
Stanton guarantees each 881S to meet the specifications within exacting limits. The most meaningful warrant possible, individual calibration test results, come packed with each unit. Whether your usage involves recording, broadcasting or home entertainment, your choice should be the choice of the professionals ... the Stanton 881S. For further information write to:


Stanton Magnetics, Terminal Drive, Plainview, N.Y. 11803 USA
(Source: Audio magazine, July 1978 )
= = = =