416+100= Double Dyna

When sonic perfection is the goal, sheer power is not enough. The new "double Dyna" STEREO 416 is--there is no other term--State of the Art. Double the number of output transistors in the most proven high power amplifier, Dynaco's Stereo 400, to create the most advanced power house without a whisper of limiting. Absolute accuracy into the most difficult loudspeaker loads.
300 WATTS CONTINUOUS AVERAGE POWER PER CHANNEL INTO 4 OHMS, and over 400 watts short-term continuous power per channel at 2 ohms. Circuits have been further refined with a switchable front end by-pass and close tolerance components for improved detail and smoothness.
Two-speed fan cooling, rack mounting, and digital control LED readouts for the most accurate power monitors.
*Measured in accordance with the Federal Trade Commission's Trade Regulation rule on Power Output Claims for Amplifiers.
Then add the ultimate: The C-100 Energy Storage System.
This supplemental power supply reserve adds 100,000 microfarads of capacitance for perfectionist listeners who distinguish the subtleties of reproduced music that defy conventional specifications. A single C-100 quick-connected to the STEREO 416 improves detail and transparency from the lowest bass to the most delicate highs. At any volume setting from background music to all-out demonstration--if you know your sound, you won't believe the difference.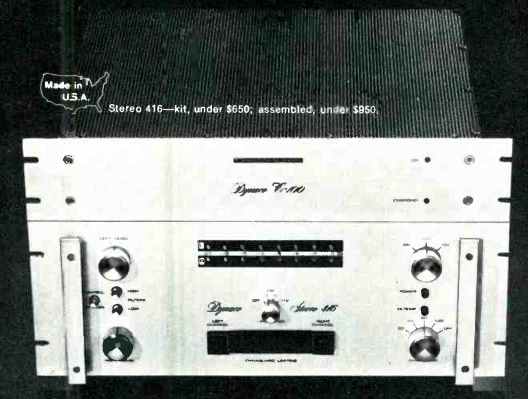 Write for the new Stereo 416/PAT-5 BI-FET brochure.
Ask your dealer for an in-depth demonstration.
Don't be switched.
dynaco
If not available at your dealer, phone Mike Patrick collect at 609/228-3200, or write:
Dynaco, Dept. A-10.
Box 88, Blackwood, N.J. 08012
Made in U.S.A.
Stereo 416-kit, under $650; assembled, under $950
(Source: Audio magazine, Oct. 1977 )
= = = =