WHEN YOU'RE NOT IN A RUSH TO CATCH UP, YOU'VE GOT THE TIME TO BUILD THINGS RIGHT.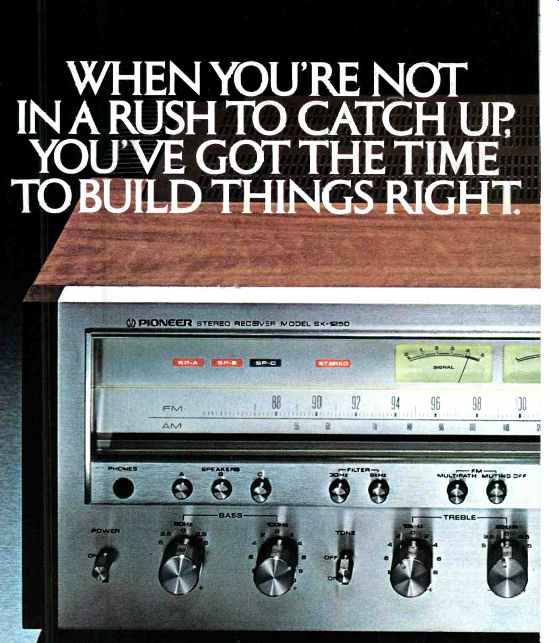 WHY THE FIRST HIGH-POWERED RECEIVER IS STILLTHE BEST HIGH POWERED RECEIVER.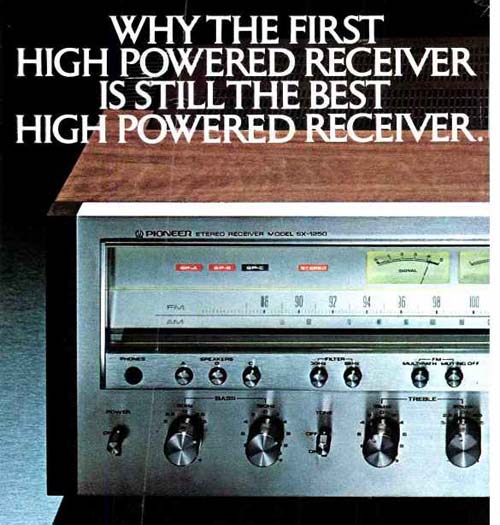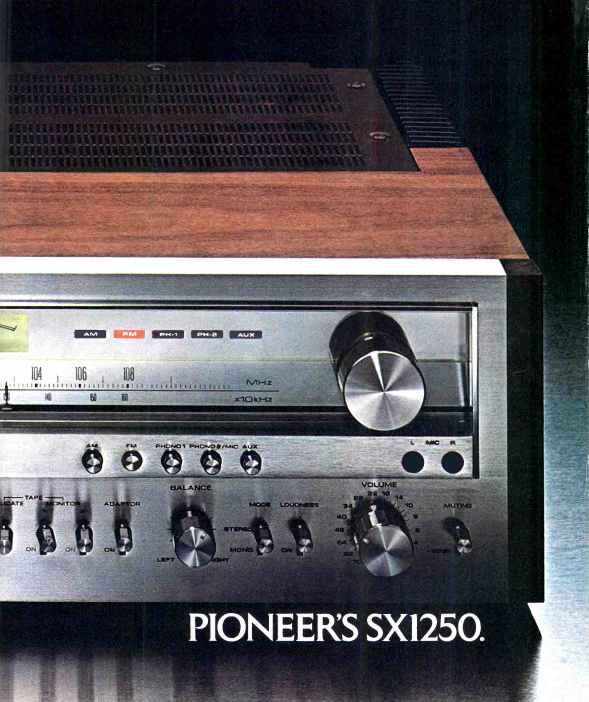 Pioneer SX1250
When Pioneer first introduced the 160 watt* SX1250 last year, it prompted our competitors to hastily introduce a bevy of high powered receivers.
Unlike the others, however, the SX1250 wasn't a rush job. And the time and care that went into it can both be seen and heard.
EVERY SECTION SHIELDED.
Unlike most high powered receivers, every critical section in the SX1250 is shielded. Enveloped in aluminum. So spurious signals from one section can't leak into another. And din and dust can't slowly build up to affect performance. So the receiver not only produces crisp, interference free sound when it's new but still sounds great as it grows old.
A 22 POUND TRANSFORMER.
In our power supply, instead of finding a conventional transformer, you'll find a heavier, more advanced toroidal core transformer. It's less susceptible to voltage fluctuations. And less likely to leak noise. Which means you get cleaner, clearer sound. And instead of finding the usual two electrolytic capacitors in the power supply, you'll find four. Because we've found that the two extra capacitors help improve low frequency response. And protect against tone burst distortion.
THE FM SECTION: A FIVE GANG VARIABLE CAPACITOR.
The average high powered (and low powered) receiver comes with a three, or four gang variable capacitor for FM tuning. Not the SX1250. It comes with a five gang zinc plated variable capacitor that cleans up FM reception much better. And helps to pull in stations that some three or four gang capacitors can't touch.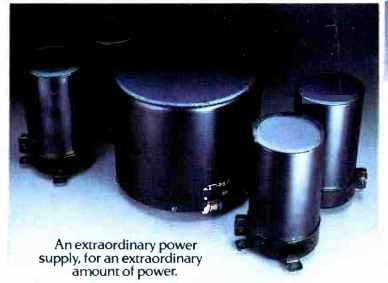 ---An extraordinary power supply, for an extraordinary amount of power.
This same kind of thinking even went into things like our heat sinks. They're massive, and located around the outside of the 1250 to dissipate heat away from the innards, instead of into them. (In the Technics SA 5760, by comparison, the heat sinks are located right in the middle of the receiver.) And where many manufacturers choose to solve the heat problem with fans, we choose not to. Simply because electrical fans car cause noise and vibration.
While our heat sinks can't.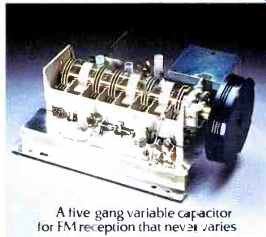 ---A five gang variable capacitor for FM reception that never varies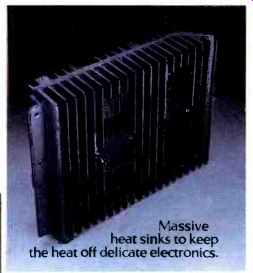 ---Massive heat sinks to keep the heat off delicate electronics.
OTHER POWERFUL ARGUMENTS FOR THE SX1250.
Our pre-amp circuit was designed with an unheard-of phono overload level of 500 millivolts. Which means that no magnetic cartridge in the world can make it distort. It was also designed to follow the RIAA curve (the recording standard of the record industry), to within 0.2 decibels. A figure that competes favorably with even the costliest separate pre-amps.
And where some high powered receivers give you two or three tone controls, the SX1250 gives you four. Two for regular treble and bass, and two for extended treble and bass. They're calibrated in 2 decibel click stops; which give you a total of 3,024 ways to make the most out of your music.
Given all this, it should come as no surprise that the SX1250 even weighs more than most of our competitors' high-powered offerings.
So before you run out and buy just any high powered receiver, consider all the time and engineering that went into the SX1250. And weigh your High Fidelity Components decision carefully.
1977 U.S Pioneer Electronics, 85 Oxford Drive, Moonachie, New Jersey 07074
(Source: Audio magazine, Oct. 1977)
Also see: Pioneer SX-780 stereo receiver (Sept. 1979)
Pioneer tape decks (May. 1975)
= = = =