A new Space Program by Sansui.
Designed to send every audiophile into orbit.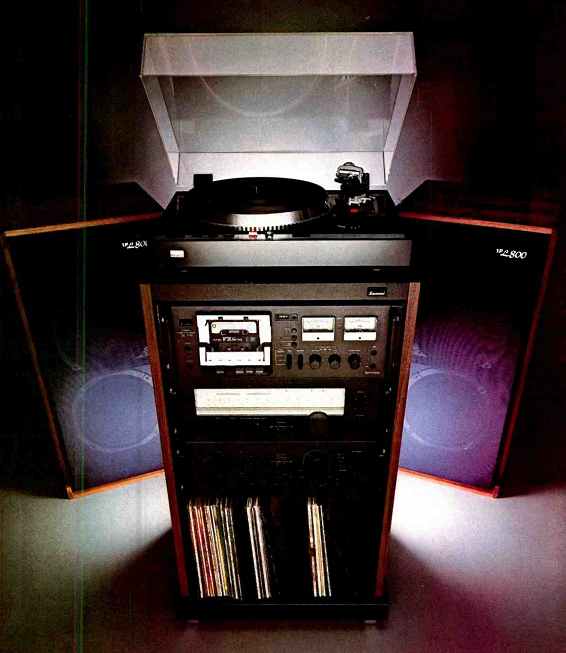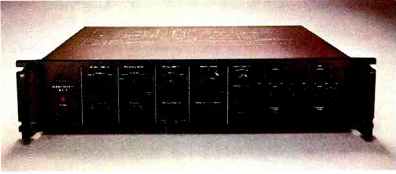 Sansui has conquered space the space in your listening room. Our engineers have created a rack to hold all your high fidelity components in one place so they're easily accessible and easy to operate. And the Sansui GX-5 rack is so elegant you will be proud to display it in your home.
The Sansui GX-5 rack is about the only EIA 19" standard-width rack available with casters for moving your sound system easily from room to room. It is 37-1/2 inches tall and can hold every rack-mountable component. You can also adjust the height of each unit to meet your needs.
We have filled the rack with our choice of outstanding Sansui components. And there's still plenty of room for your records. Listen to them on the Sansui SR-838 Quartz-Servo direct-drive turntable, about the most elegant and stable precision turntable in the world. Even when set on top of so much power, the SR-838 will perform free from all noise and feedback.
When your mood changes, listen to your favorite FM station on the Sansui TU-717 tuner. Reception, even of the weakest stations, is outstanding, with selectivity so high there is never a problem with adjacent channel programming.
And, of course, if you want to preserve these treasured sounds for years as clean and pure as they were the very first time you heard them it's all possible with the SC-3110 cassette deck, our rack-mountable version of the SC-3100, already well-known for its superior performance and ultra-convenience including Sansui exclusive Direct-O-Matic loading.
To match these outstanding components, Sansui offers you the AU-717 amplifier with the widest frequency response (from main-in) of any available DC integrated amplifier at any price. With astonishingly low distortion and noise, and wide overall frequency response, the signal is an ultra-faithful replica of the original. The AU-717 delivers the brilliance and all the nuance that makes music so important in your life.
Listen through a pair of SP-L800 (or SP-L900 or 700) dual-woofer speaker systems*They have been designed to give you the full enjoyment of the clean and pure sound that our advanced technology components provide.
Of course, you can select other components to meet your own listening needs. You may want slightly less power; so we offer you the AU-517 DC integrated amplifier, created with the very same expertise as its bigger brother, the AU-717. If you wish to spend a little less on your cassette, you can choose the SC-1110.
And for you recordists and musicians we have something almost out of this world. The AX-7 mixer/ reverb unit is about the finest home recording console that you can find at such a reasonable price. Versatility is the key, with up to 6 inputs for microphones, line level, electrical instruments, discs, broadcasts or tapes. You get pan-pots and 20dB input level attenuators on the 4 main inputs.
Reverb is included, as well as circuits for 4-channel, equalization and noise reduction. Record the sounds you create on up to 3 tape decks.
We're sure you'll want to visit your local franchised Sansui dealer for a complete demonstration of Sansui's new Space Program. Just think about it.
It will send you into orbit.
Walnut veneer finish
SANSUI ELECTRONICS CORP. Woodside, New York 11377 Gardena, California 90247
SANSUI ELECTRIC CO., LTD., Tokyo, Japan
SANSUI AUDIO EUROPE S.A., Antwerp, Belgium
(Source: Audio magazine, Nov. 1977)
= = = =