"Overall amplifier performance rating: excellent.
Sound quality: superb" -- Len Feldman
The Sansui AU-717 DC integrated amplifier.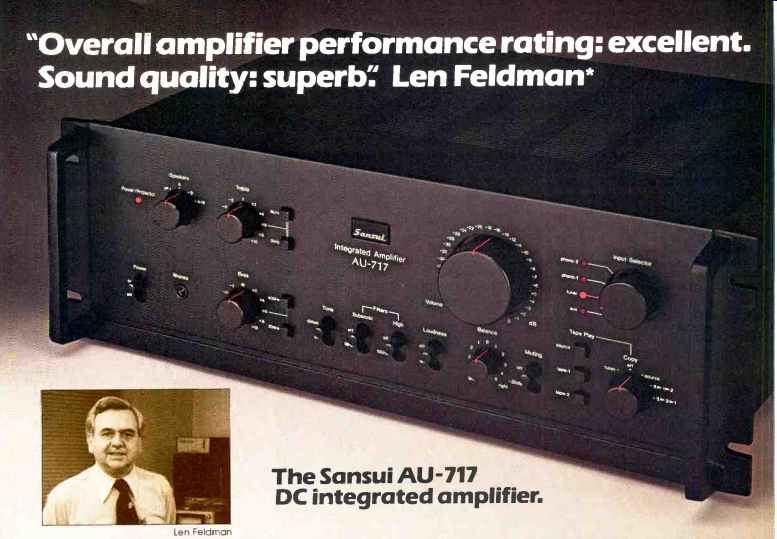 When Len Feldman tested the Sansui AU-717 for Radio Electronics a year ago, he concentrated primarily on its traditional, steady-state performance measurements.
Power output capability. Total harmonic distortion. RIAA phono equalization accuracy. Signal-to-noise ratio.
Usual tests, though applied to an unusual amplifier.
Here's some of what he said: "One clear advantage of DC design is apparent. Even at the low 20Hz extreme, the amplifier delivers a full 92 watts-the same value obtained for mid-frequency power-compared with its 85-watt rating into 8 ohms...
"The equalization characteristic of the preamplifier was ore of the most precise we have ever measured, with the deviation from the standard RIAA playback curve never exceeding more than 0.1dB ... The 380-mV overload figure for phono is far greater than would ever be required using even the highest output magnetic cartridges available." At the time, dynamic response measurements--such as slew rate, rise time, and Transient Inter Modulation distortion (TIM) were still in their infancy.
Indeed, even now, engineers have not yet fully agreed on a standard method of measuring TIM, though its audible effects nave been increasingly recognized.
Mr. Feldman sensed this when he commented: "Sansui claims that this unit has reduced transient intermodulation distortion...and, indeed, the model AU-717 delivered sound as transparent and clean as any we have heard from an integrated amplifier..."
The fact is that while conventional amps are designed to reproduce sine-wave test signals which have a smoothly-changing, endlessly repeating character-with negligible THD, they usually do so at the cost of increased TIM. The excessive negative feedback used to reduce steady-state distortion to the vanishing point can (and usually does) reduce the ability of the amplifier to respond fully to the dynamic, rapidly-changing, pulsed signals which are the music itself. Thus, you get the harsh, metallic sound of TIM. That's why Sansui has not only led the way in DC amplifier design (circuits whose low-frequency response extends down to zero Hz), but has also concentrated on the high slew rate, fast rise time designs needed for the faithful reproduction of music, not just simple test signals. Slew rate is a high 60V/µSec; rise time a fast 1.4µSec. And the frequency response of the power amp of the AU-717 extends to a full 200,000Hz.
Visit your authorized Sansui dealer. You'll hear the difference Len Feldman heard, and you'll understand why the Sansui AU-717 is about the most popular integrated amplifier available today
SANSUI ELECTRONICS CORP.
Lyndhurst, New Jersey 07071
Gardena, Ca. 90247
Sansui Electric Co., Ltd., Tokyo, Japan
(Source: Audio magazine, Apr. 1979)
Also see: Sansui SC-3300 cassette deck (Sept. 1979)
Sansui AU-719 integrated amplifier (Mar. 1980)
= = = =