ONE OF THE WORLD'S GREAT POWERS.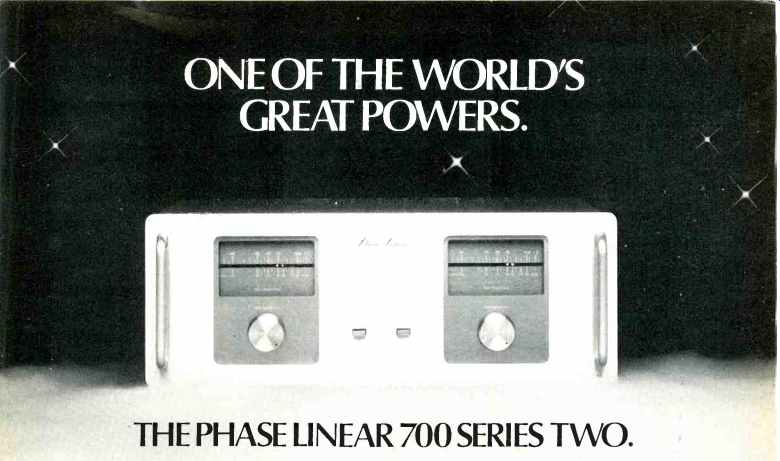 THE PHASE LINEAR 700 SERIES TWO.
Over seven years ago, Phase Linear took the audio world by storm when it introduced the first truly high-power, high-fidelity amplifier: the Phase 700. Everyone was stunned at the incredible 350 watts per channel, with ultra low distortion. (In those days, popular mythology held that amps would never need more than 50 watts to a side. In fact, who had even heard of clipping?) Naturally, the skeptics scoffed.
But audio critics and music-lovers worldwide listened. And for the first time, they heard recorded music reproduced in the home accurately.
No muddy rumble at the low end.
No harsh, distorted clipping of the highs. The era of great power amps had begun! Today, it's generally accepted that you need an amplifier with a massive reserve power to drive inefficient high-technology speakers and reproduce all the musical transient peaks without clipping. The amplifier with unquestioned ability to meet this criteria is the Phase Linear 700 Series Two.
GREATER POWER RESERVES MEAN GREATER HEADROOM
The Phase 700 Series Two is rated at 360 watts per channel, with distortion virtually inaudible at 0.09%. With this tremendous power, the Phase 700 can reproduce musical transients with ease, giving you almost unlimited headroom. As a result, your music sounds lively, with incredible realism. Even the deepest notes are clearly distinguishable.
INCREASED ACCURACY AND PROVEN RELIABILITY
The original Phase 700 was designed for home use, but it rapidly won the approval of the pros. Its proven dependability on the road made the 700 a favorite touring amp for super groups and sound reinforcement companies.
The Phase 700 Series Two retains this legendary reliability, and improves sonic accuracy by utilizing an advanced BI-FET input stage. This integrated circuit keeps the output virtually identical to the input. Beautiful music in, beautiful music out.
The 700's instantaneous LED output meters move at lightning speed, accurately monitoring the output voltage, with calibrations for 8 and 4-ohm applications. If you're listening at quiet levels, you can activate a Meter Range Switch to upscale the meter by 20dB. You have a visual indication of output activity, in addition to the Electronic Energy Limiters that prevent damage from accidental overloads.
If you demand great performance, don't settle for less than a great amplifier.
SPECIFICATIONS:
Output Power: 360 WATTS, MIN. RMS PER CHANNEL 20Hz-20kHz INTO 8 OHMS, WITH NO MORE THAN 0.09% TOTAL HARMONIC DISTORTION.
Continuous Power Per Channel At 1000Hz With No More Than 0.09% Total Harmonic Distortion: 8 OHMS-450 WATTS 4 OHMS 550 WATTS.
Intermodulation Distortion: 0.09% Max (60Hz: 7kHz-4:1).
Damping Factor: 1000:1 Min.
Residual Noise: 120uV (IHF "A").
Signal to Noise Ratio: 110dB (IHF Weight: 45 lbs. (20 kgs).
Dimensions: 19"x7"x10" (48.3cm x 17.8cm x 25.4cm).
Optional Accessories: Solid Oak or Walnut Side panels. E.I.A. standard rack mount configuration.

Phase Linear - THE POWERFUL DIFFERENCE
PHASE LINEAR CORPORATION, 20121 48TH AVENUE WEST, LYNNWOOD, WASHINGTON, 98036, USA.
MADE in U.S A.
(Source: Audio magazine, Jan 1979; )
= = = =