Below: An Optimus (Radio Shack) CD-3470 portable CD player -- a model from 1995, which is a better-sounding successor to the infamous CD-3400. The CD-3470 lacks a digital output but, via Line Out jacks, sounds better and has much better shock immunity than the CD-3400.
Below: In 1995, I modified the CD-3470 for improved audio fidelity by applying rope caulk or adhesive tacky putty inside, beneath and in the battery compartment of the unit's chassis. I also made an isolation stand using a sheet of cardboard and foam strips.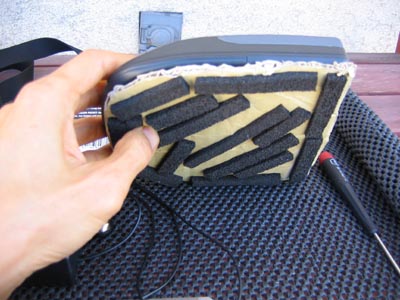 Below: The top of the CD-3470's printed circuit board (PCB); transport is in the background. Notice the yellow tacking plastic in the battery compartment.
Below: The bottom of the CD-3470's printed circuit board (PCB).
Below: A closer look at the CD-3470's Line Out and Headphones out section. High-quality Elna capacitors (yellow "cans") are utilized on this model.
All about the Radio Shack Optimus CD-3470 Portable CD Player:
(Radio Shack catalog number: 420-5053)
Features
The Radio Shack Optimus CD-3470 Portable Compact Disc Player uses the latest (circa 1995) digital audio technology to give you clean, crisp sound from your compact discs. You can connect the CD player to your home audio system or connect it to a pair of stereo earphones for portable, private listening.
The CD player's advanced technology makes it simple to operate. Be sure you read this owner's manual completely so you can take advantage of all its advanced features.
1-BIT DAC - uses the latest in digital-to-analog conversion circuitry to accurately reproduce all sound levels with virtually no distortion.
BUILT-IN RECHARGING CIRCUITRY - lets you recharge nickel-cadmium batteries in the CD player, using an optional AC or DC adapter.
SKIP/SEARCH - lets you quickly locate and play any track on a CD.
AUDIBLE SEARCH - helps you locate a particular section of music by rapidly playing the CD in either
direction.
SEQUENCE PROGRAMMING - lets you program up to 20 tracks to play in any order you choose.
REPEAT PLAY - lets you automatically repeat a single track, an entire CD, or a programmed
sequence.
RANDOM PLAY - lets you play the tracks on the CD in random order.
PAUSE/CUE - lets you temporarily stop play, or cue a track for play at a later time.
INTRO SCAN - helps you locate a desired track by playing the first 10 seconds of each track on the CD.
EXTENDED BASS SYSTEM - creates a fuller bass sound.
5- OR 3-INCH CD COMPATIBLE - plays standard 5- or 3-inch CDs.
AUTO POWER ON/OFF - automatically turns on the CD player when you press PLAY/PAUSE and turns off the player when you press STOP or when it finishes playing all the tracks.
HOLD FUNCTION - helps prevent accidentally changing the CD player's operating mode when you are listening to a CD, and preserves battery life by locking all controls when you turn off the CD player.
THREE POWER SOURCES - lets you power your CD player from four A
If you're looking for service or operating manuals for Radio Shack / Optimus legacy electronic equipment, use these links:
---
Looking used portable CD players? Use the search box below ...
---
Home | My PC-based A/V System (circa March 2004) | My Home A/V System (circa 2001)