A Practical Introduction to Digital IC's (1977)
---
CONTENTS
SECTION 1 - AN INTRODUCTION TO DIGITAL IC's
SECTION 2 - A LOGIC CIRCUIT TEST SET
SECTION 3 - TESTING & IDENTIFYING DIGITAL IC's
SECTION 4 - SIMPLE PROJECTS USING DIGITAL IC's
SECTION 5 - A DIGITAL COUNTER-TIMER
SECTION 6 - USING THE COUNTER-TIMER
---
This guide is based on the following 1977 book: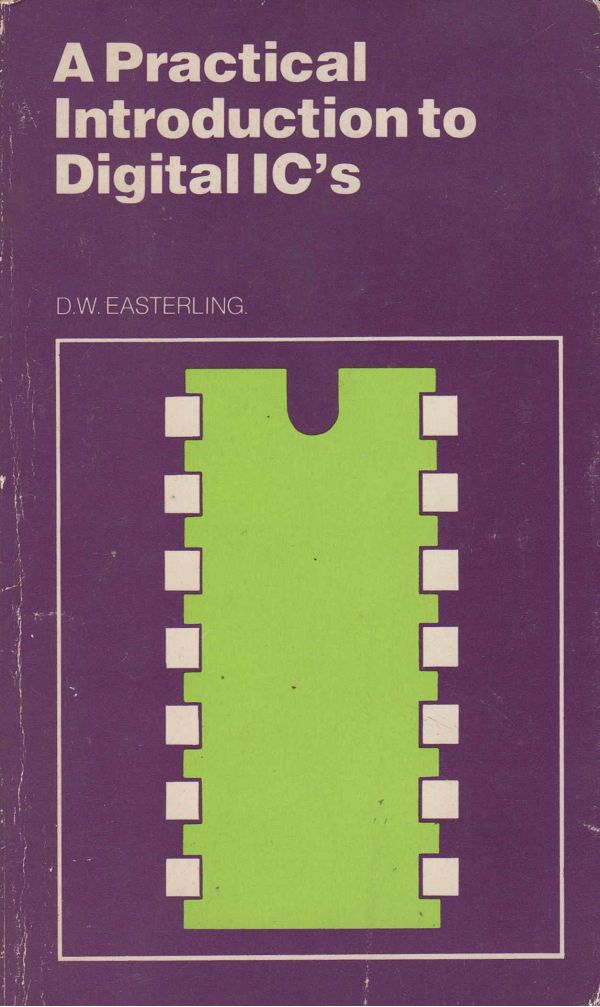 • Digital IC's which have been used by computer engineers for many years are now freely and inexpensively available to the home constructor.
• Mr. D.W. Easterling has written this book to introduce the reader practically to digital IC's and it is mainly concerned with the TTL types such as the 7400 series.
• Besides a number of simple projects the author has included the full practical construction of a Logic Circuit Test Set which will enable the reader 7to identify and test his own Digital IC's.
• Also included are the full constructional details and ways of using a more ambitious project-The Digital Counter Timer.
Cover design by the Nicholls Design Unit.
BERNARDS (Publishers) LTD
The Grampians Shepherds Bush Road London W6 7NF England
ISBN 0 9 0 0 1 6 2 6 6X
--------
Please note overleaf is a list of other titles that are available in our range of Radio and Electronic Books.
These should be available from all good Booksellers, Radio Component Dealers and Mail Order Companies.
However, should you experience difficulty in obtaining any title in your area, then please write directly to the publisher enclosing payment to cover the cost of the book plus adequate postage.
BABANI PRESS & BERNARDS (PUBLISHERS) LTD THE GRAMPIANS SHEPHERDS BUSH ROAD LONDON W6 7NF ENGLAND
---
Also see:
50 Circuits Using 7400 Series IC's
---


Home

This page was last updated: Friday, 2007-07-20 17:18,Monday, 2023-10-16 12:03 PST